Congratulations. You've set up your company's Facebook, LinkedIn, and Twitter accounts. Now you just have to log into each one, post updates, start discussions, tweet, read comments, check analytics to see how effective they are, and work. Oh right – you still have a job to do.
Social media management tools can help organize and manage your platforms so you're not chained to your computer. There are so many to choose from: HootSuite, Tweetdeck, Postling, Crowdbooster, Sprout. I'm sure there will be another one tomorrow. For the most part, they all help manage your social media platforms by integrating them into one view or stream.
Let's help you get started on HootSuite. It's incredibly user friendly, the basic free version allows up to 5 social profiles, it has a great iPad app, and it's web based so there's no need to download anything.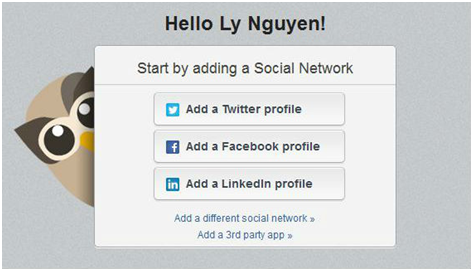 Start by adding your social networks. You'll have to give HootSuite permission to access them.
It will ask which pages you'd like to import/connect to your HootSuite dashboard. More can be added later.
Yay, you now have a dashboard. Organize those tabs by dragging and dropping them.

2. Schedule a message.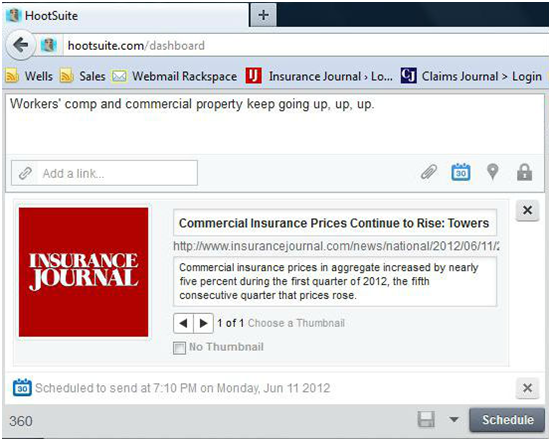 Type your message in the "Compose message" field and attach any photos or links.
Hootsuite will shorten your URL if you choose to. It's helpful for staying under the 140-character Twitter limit and provides click stats.
If you don't want to, paste the full URL into the message body and it will remain intact. The URL can be deleted from the message after it's been attached to the post.
Choose which profiles you want it to post to.
Click on the calendar and schedule the post. Click Schedule and you're done.
To review or edit what you have scheduled, click on the "Publisher" airplane on the left hand menu.
3. You're done! 
There you go. You can eat, run meetings, go to your kid's soccer game, sleep, and make that sale while still connecting to your audience who could be across the country or around the globe.
The Pro version is free for 30 days and offers unlimited social profiles, additional users, and integrates Google and Facebook analytics if you want to test it out.
Do you use HootSuite or another social media management tool? Let me know how you like it and if it helps you stay on top of your platforms.