Company

Irwin Siegel Agency, Inc.

Location

Rock Hill, NY

Website

Category

Posted On

June 9, 2014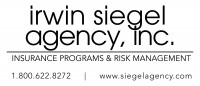 Since 1960, Irwin Siegel Agency has maintained stability in the insurance marketplace because we have embraced change, but the true foundation of our company is our people. As a growing provider of insurance products and risk management services for Human and Social Service organizations, we take pride in the unique culture created by our employees.
Our office is situated on a scenic campus in Sullivan County, NY, just 80 miles northwest of NYC. Despite our pastoral setting, our operations remain fast-paced as we interact with customers nationwide. Our region offers the serenity of country living and access to outdoor activities, art and music, yet remains a car ride away from premium shopping, dining and the lights of Manhattan.
We are a progressive employer offering health benefits, paid holidays, vacation and personal time and 401K. We would be willing to hire the right person to work remotely. If you are a positive, success-minded, customer-centric individual looking for something different, we want to hear from you.
JOB DESCRIPTION
Underwriters are responsible for the underwriting and servicing of a variety of Social Service multi line accounts.
As an Underwriter your key objectives are to:
Underwrite new and renewal business submissions and determine proper pricing levels for individual risks to ensure a profitable book of business within established underwriting guidelines.
Generate new business and improve retention of existing business through effective marketing, re-marketing and superior customer service, thereby increasing total book of business.
Review coverage change requests and utilize available resources to interpret coverages.
Provide superior customer service to brokers and/or insureds by responding to requests in a courteous and timely manner.
Balance and prioritize work-flows, work cooperatively with other departments and support other team members as needed.
Request Loss Control Surveys, review completed surveys, forward recommendation letters to the insured and follow-up to ensure compliance.
Assist with special projects and assignments that may be required by the Underwriting Department.
Maintain knowledge of ISA, producers, brokers, and clients' methods of operations and procedures, which includes demographic, economic, and social characteristics to increase profitable market share.
Specific tasks include but not limited to:
Screen, place, and process Commercial Lines applications.
Review applications, renewal requests, and endorsements for compliance with underwriting authority and guidelines.
Initiate, screen, and prepare endorsement requests on assigned accounts.
Handle telephone requests and miscellaneous correspondence.
Process cancellation requests.
Review policies and endorsements for accuracy.
Keep up to date on rate, form, and coverage changes.
Participate in seminars and classes for skill and knowledge development.
Order surveys when warranted.
EXPERIENCE/QUALIFICATIONS: EDUCATION, SKILLS, AND SPECIAL REQUIREMENTS
At least two years of diverse underwriting experience.
Possess excellent listening, verbal and written communication skills.
Able to work in a fast paced, high-pressure environment.
Strong decision making, analytical, organizational skills
NYS Brokers License.
How to Apply
Please e-mail your resume to
emily.calabro@siegelagency.com
to apply