Always Striving to be a Cut Above the Rest
---
Madison, Wisconsin
Hausmann-Johnson Insurance
---
"We always do what we say we're going to do."
That slogan serves as a guiding light for Hausmann-Johnson Insurance, the agency selected as Insurance Journal's Best Agency to Work for in the Midwest in 2012, and one of the many reasons why the firm's associates endeavored to recognize it as such.
Steve Squires, president and CEO, says he's pleased but not surprised that the agency's associates — they are not referred to as employees — think his agency is a great place to work. "They prove to us every day that they're glad to be here," Squires says. "They're a good group, and we always strive to be better and work harder."
The Madison, Wis.-based company's philosophy "drives our employees to treat our clients, carriers and each other honestly and directly, leading to a high level of professionalism and trust in the company," wrote one associate. "It's earned us the title 'Preferred Independent Insurance Agency' by a local business magazine for the past four years."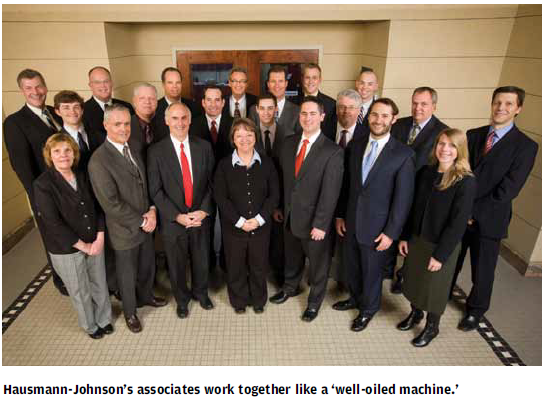 Hausmann-Johnson has about 65 associates, including 13 owners, and generates about $11 million in revenue annually on the sales of around $100 million in written premium, including group benefits. The agency's mix of business is about 25 percent employee benefits and 75 percent property/casualty, about 92 percent of which is in commercial lines and 8 percent personal lines.
Squires says the company recognizes that "an employee or associate spends a lot of time in a work world, and we want to make sure it's a pleasurable experience."
To that end, management not only seeks to encourage solid workplace practices, but also to make it an enjoyable place to work.
"We have a fun committee, that's actually what we call it," Squires says. "It's a committee that's formed every year … they basically plan the fun for the year, whether it's the annual company picnic or a winter event. They probably do an event once a month at least. Something around the office — it can be as little as a trivia game."
One particularly popular event is the annual mini miniature golf tournament. "We have teams, and we set up a little miniature golf course all the way around the office cubicles and so forth. People seem to enjoy that. There again, we think people spend a lot of time at work and we want to make sure it's an enjoyable time," he says.
Squires says the agency aims to create an environment where associates are encouraged to succeed and advance in their careers.
As one associate put it: "We are a team that works like a 'well-oiled machine;' our team members coordinate their efforts to ensure the best possible outcome for our clients and ultimately the success of our company. Our associates take pride in their performance, taking ownership in everything that they do. This makes it fun to work for Hausmann-Johnson."
Employees say the agency is "flexible and generous." The company provides a path whereby associates are able to seek ownership positions. Of the 13 current owners, three, including Squires, are major owners. Some of the firm's 18 sales personnel are minority owners, as are three people in key management, but non-producing, positions.
There are certain criteria associates have to meet to become owners, Squires says, but ownership is "available if a person is interested, and we encourage it."
The company is committed to maintaining its independence and has an internal perpetuation plan in place. Hausmann-Johnson's associates appreciate and rely on that strategic plan, one survey respondent wrote.
"As a result of that initiative, we've gone on a hiring spree, bringing in young talent to create the 'next generation.' This central focus on finding ways to stay independent and keep our culture intact has been received very well by our associates. We find that everyone on the staff works harder and prouder as a result of it. We know our competitors are looking to sell to larger national/regional agencies, which inevitably causes the culture and approach of the agency to change. Our clients and our associates know that we're here to stay."
Ultimately, Hausmann-Johnson tries "to be a cut above the rest" with its benefits and pay structures, and advancement opportunities, Squires says. If someone is in the insurance agency business or is interested in the insurance agency business, Hausmann-Johnson wants to be "one of the first agencies they think about."