Dallas-based MarketScout recently released its Market Barometer for May.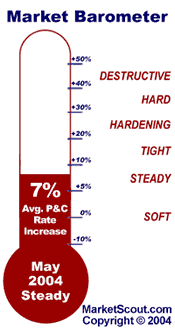 Market Barometer for May
MarketScout's Market Barometer
According to Richard Kerr, chairman and CEO, "The composite premium increase for May was 7 percent. Property coverages continue to experience premium decreases of 5 percent to 10 percent. Liability coverages are up 11 percent in the tougher classes and flat in the less risky lines of coverage. D&O rates continue to increase at 12 percent to 15 percent as opposed to the 50 percent plus increases of the last two years.
"Brokers and their insurers will be fighting to maintain their renewals as intense competition for major accounts accelerates. We expect robust competition across the board with reductions in both premiums and broker compensation.
"A softening market is an excellent time to form a new insurance agency and many producers will take the leap. Hundreds of new brokers, several of which will become major players, will evolve over the next three years as producers and industry experts try to capitalize on the opportunities which arise when premiums are falling."