According to MarketScout (www.marketscout.com), despite almost $50 billion in hurricane losses, the market is softening.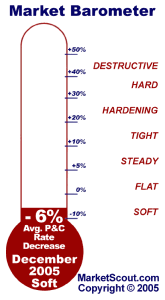 December's composite rate index reflects rates are down 6 percent. With the exception of January and February, rates decreased every month during 2005. In fact, MarketScout's forecast is for further softening in early 2006. There are some areas where rates are increasing but they are limited primarily to offshore energy, coastal property and some tough liability classes.
According to Richard Kerr, chairman and CEO of MarketScout, "The primary reason the market continues to soften is the availability of additional capacity. Capital is readily available to support new insurance entities with proven management teams. These new insurers plan to capitalize on what they perceive as an overpriced market. We do not feel the market is overpriced for existing insurers, however, new insurers don't have the legacy issues of the existing market, thus their willingness to enter at prices under today's rates."
Kerr noted that some industry pundits felt the reinsurance market would drive rates up; however, many key insurers are writing large net lines so the pricing of reinsurance is not as much of a factor. The renewal of TRIA will provide confidence to many insurers thereby further driving a softening market.
December 2005 trends were reported as follows:
By Coverage Class
Commercial Property Up 3%
Business Income Up 3%
Inland Marine Down 2%
General Liability Down 7%
Umbrella/Excess Down 6%
Commercial Auto Down 2%
Workers' Compensation Down 9%
Professional Liability Down 5%
D&O Liability Up 1%
EPLI Down 1%
Fiduciary Down 2%
Crime Flat
Surety Flat
By Account Size
Small Accounts Down 5%
Up to $25,000
Medium Accounts Down 7%
$25,001 – $250,000
Large Accounts Down 8%
$250,000 – $1,000,000
Jumbo Accounts Down 12%
Over $1,000,000
By Industry Class
Manufacturing Down 6%
Contracting Down 2%
Service Down 7%
Habitational Up 3%
Public Entity Up 3%
Transportation Up 1%
Energy Up 11%
The findings of MarketScout's barometer are reportedly further supported by surveys conducted by The National Alliance for Insurance Education and Research. These surveys were conducted during CIC and CRM institutes held across the United States in December 2005.