This post is part of a series sponsored by FMG Suite.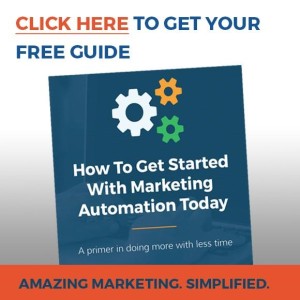 Chances are that as a successful independent insurance agent, you've become a multitasking master. You listen to an audiobook on your commute to work, use productivity apps to maximize your time, and complete paperwork during lunch. Your marketing strategies can function in a similar way with automation tools, saving you time, reducing costs, and keeping your digital marketing outreach consistent. In fact, marketing automation drives a 14.5% increase in sales productivity and a 12.2% reduction in marketing overhead.
Need more convincing? Check out just a few statistics regarding marketing automation:
63% of companies that are outgrowing their competitors use marketing automation.
Companies using marketing automation see 53% higher conversion rates than non-users, and an annualized revenue growth rate 3.1% higher than non-users.
79% of top-performing companies have been using marketing automation for more than 2 years.
The first thing you should consider when creating a marketing automation schedule is what marketing strategies can be automated. One of the key aspects of marketing is that it's social. It's not a "set it and forget it" structure. Instead, it significantly cuts back on the time you have to spend on your marketing. While the average small business owner spends 20 hours a week on their marketing, automation can cut that down to one hour. Some common topics that work great on an automation schedule may include:
Personal posts (quotes of the day, holiday well wishes)
Evergreen content
Curated content from other sources
Regular tweets and Facebook posts
When determining the right balance of content types for your business, consider the "5-3-2" rule. For every ten posts, five of them should be curated content from other sources, three should be interesting pieces that are unique to your business, and two should be personal posts.
Once you have your automated content, you need to decide how often you will post. There are no absolute rules about how often to post on social media, as every practice is different, but three times a week is a good rule of thumb. For email marketing, send out a campaign no more than once a week and at least once a month. And for blogging, aim for once a week or at least once a month.
You've got the "what" and "when" of social media automation, but what about "how"? There are many different ways to answer this question, and service professionals will need to find the tools that work best for them. For example, FMG Suite offers automation tools, including social media and email campaigns, and a content library that continually refreshes on insurance agents' websites.
You've mastered the speakerphone calls while brushing your teeth and the one-handed cooking while helping with homework. Isn't it time that you mastered multitasking in the world of digital marketing? Automation is the answer to help save you time and keep your social posts consistent.
Ready to save time and money on your marketing? CLICK HERE to get your FREE whitepaper on how to get started with marketing automation.
Topics Insurtech
Was this article valuable?
Here are more articles you may enjoy.