This post is part of a series sponsored by PersonalUmbrella.com

When 68% of U.S. households have a pet, there's no question that pets are family. And since we're in insurance, we often view pets as "risks" rather than "furbabies."
When we think of accidents in the home, pets, and therefore, animal liability coverage, can be overlooked.
Beyond what comes to mind easily (bites), another serious hazard of pet ownership is a fall.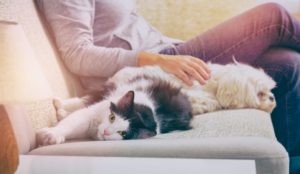 Tripping over a little critter can be hazardous — especially because starting at about age 65, falls become the leading cause of death. There were over 11.3 million visits to the emergency room due to falls; almost double that of motor vehicle accidents, according to the National Safety Council.
Pet parenthood can also be risky because animal liability is similar to vicarious liability with kids: The human who loves them is responsible when things go wrong. This goes for the insured's pets or any pet for which they might be caring.
To help your insureds navigate the ins and outs of animal liability coverage, start with these easy questions, both for new and renewal policies.
What kind of pet?
Gone are the days of hearing the response "dog" or "cat." Be ready for the "modern" furry family members: ferrets, goats, pigs, horses, chickens, hedgehogs, foxes, even skunks (!).
What does their homeowners/renters policy say about animal liability coverage?
Review the carrier's policy to see if animal liability is included, and if so, how much coverage is included. And check that sub-limit: some carriers only offer $25K in coverage.
Also check to see if the type of pet is covered. Some policies exclude certain animals, dog breeds and/or working dogs like service dogs, therapy dogs or guard dogs. Be watchful for exclusions of special agricultural activities or clubs.
What's the budget?
If animal liability coverage isn't included (or isn't enough), surprise and delight your insured with a quote from a homeowners/renters carrier that has this essential coverage and then quote an umbrella to give them an extra layer of protection.
A standalone personal umbrella sits on top of a homeowners/renters and kicks-in when a covered loss occurs and those underlying policy limits are exhausted. It protects assets by paying for essential medical care, like physical therapy, and includes expert legal defense outside policy limits.
By adding an umbrella, they can extend their coverage into the millions. Our $1 MM policy costs about 85 cents a day.
That's smart money, considering the cost of legal advice and potential losses from a lawsuit.
So go ahead and give some great advice: You'll be your insured's next best friend.
Was this article valuable?
Here are more articles you may enjoy.