This post is part of a series sponsored by PersonalUmbrella.com


Pools, trampolines and play equipment are considered "attractive nuisances" and homeowners coverage for them can be iffy. Add in houseguests and partygoers and they become even more risky.
An umbrella policy can help insureds get outside safely, protecting them against catastrophic losses — and ours provides specialized legal defense when needed.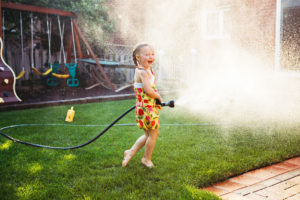 Whenever you write or quote new business, be sure to ask your insured if they have any of these "nuisances" in their backyard and quote with a carrier that offers coverage.
Here are some quick talking points about these summer favorites, perfectly timed for the season of beers and barbecues.
The Nuisance: Swimming Pool
Don't take it for granted that the pool is included in their policy; you'll need to ask their homeowners carrier to be certain.
If it is covered, are the limits high enough? Think in terms of the worst: a drowning or a catastrophic injury, like paralysis.
Remind your insured to install safety accessories to keep their family, friends (and even uninvited guests) safe.
The Nuisance: Trampoline
Trampolines are often excluded from homeowners policies, so you'll definitely want to verify coverage on this one.
Encourage your insured to read — even memorize! — manuals, as it will give them the important information they need to establish strict rules about usage.
Be sure to highlight age restrictions, proper installation with safe landing surfaces and to always, always supervise when someone is jumping.
The Nuisance: Play Equipment
Play equipment must be age-appropriate and installed securely on a safe surface. Encourage insureds to hire a pro if they're considering a playset or a swingset for their yard — or if one is already in place, have a pro come by to inspect fastenings and maintain it regularly.
Was this article valuable?
Here are more articles you may enjoy.