This post is part of a series sponsored by PersonalUmbrella.com


Back to school season means it's time to test your smarts.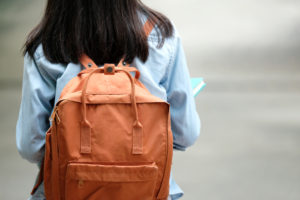 1. Is a parent chaperoning a field trip always covered?
A. Yes, they'd be covered by the school's insurance.
B. No, they'd need to have their own insurance.
C. Maybe.
ANSWER: C. Be sure auto coverage extends if the parent drives students in their car to a field trip. Check with homeowners if they're only chaperoning, not driving.
Now is the perfect time to talk about increasing your insured's limits and offering an umbrella to kick-in when those limits are exhausted. Maybe they've been reluctant to do so before because they didn't see the need—show the value of increasing limits by giving concrete, real-world examples like these:
A car accident on the way to a museum with students in the car.
Lifting a heavy prop for the school play and it falls on a fellow volunteer, leaving them with a head injury.
Another parent volunteer trips and falls on a bucket they left out while painting the school.
2. Are parents responsible for their college student's actions?
A. It depends on what happened.
B. No, once the student is 18, they're on their own.
C. Yes, parents can be held liable.
ANSWER: C. Sure she's an adult residing elsewhere, but vicarious liability laws may still apply. Before she heads off to school, your insureds should contact an attorney in that state for guidance. They should also ask their homeowners carrier if coverage extends. Finally, help them determine who qualifies for liability coverage as a "student away from home." Certain requirements, like a minimum number of credits per semester may apply.
3. Does UM/UIM provide extra coverage if a child is injured walking to school?
A. Yes it does.
B. It could if they were hit by a car, but not if they fell.
C. No, it's only if they were riding in a car, not walking.
ANSWER: A. Yes. Whether a child is walking through a busy intersection or crosswalk or riding a bike, UM/UIM will take care of their medical expenses on a covered loss. Extra credit: Read this post with additional secrets that'll earn you an A+.
4. Will an insured be covered if an accident happens while carpooling?
A. To a point.
B. Not if they're a passenger in someone else's car.
C. The carpool driver will be covered, but not their passengers.
ANSWER: All of the above. There are a lot of ifs in this scenario. Ask your insured if they know what would happen if their child was in someone else's car and was injured. Do they think their auto insurance would cover medical expenses? How about health insurance? What if the at-fault driver was uninsured or only carrying state minimums? Do they have UM/UIM?
There's no better time to explain the ins and outs of their coverage and what may or may not be covered.
Was this article valuable?
Here are more articles you may enjoy.