This post is part of a series sponsored by PersonalUmbrella.com


On average, twice as many children are killed while walking on Halloween compared to the rest of the year.
With drugged driving on the rise, the hazards of this holiday become even greater.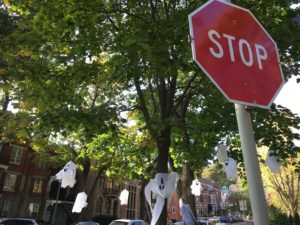 This month, share the dangers of the road — and its drivers — with your insureds and let them know about Excess Uninsured/Underinsured (excess UM/UIM) motorist coverage, an option that can be added to their existing auto or umbrella coverage quickly and easily to protect them, wherever they may be — on a sidewalk, in the street or in a car.
Why Does Excess UM/UIM Matter?
Excess UM/UIM protects the driver and her passengers when she's not at fault for an accident and the other driver doesn't have any (or enough) insurance to pay for essential medical care, lost wages, pain and suffering or emotional distress.
Drugged Driving Takes a Life
Here's a real-world case study from my files resulting in a $1 MM claim.
Jeff, a parent volunteer at his son's school, was driving a group of eight kids in his minivan to trick or treat in a neighborhood with safe sidewalks and bright streetlights.
John, a fellow volunteer parent, decided to ride along and lend a hand as a trusted adult.
Also on the road was Richard, a local small business owner, who had prescription drugs in his system. He regularly drove while using his medication, against the advice of his physician and pharmacist.
Right after Jeff parked the minivan and the group was exiting the vehicle, Richard lost control on a turn and crashed into them. He proceeded to drive through a barrier, fleeing the scene and was later arrested at home.
Tragically, a 10-year-old child was killed. Jeff and two other children were seriously hurt with multiple injuries that required extended hospital stays and a wide range of long-term therapies, both physical and psychological.
Richard was only carrying state minimums thinking that was enough, but coverage for medical bills of this magnitude was exhausted quickly.
Because Jeff had a personal umbrella policy with $1MM excess UM/UIM, it covered the gap left by the underlying policies to take care of his medical bills and those of his passengers.
What You Need to Know
Driving under the influence of drugs or alcohol is illegal in all states, the District of Columbia and Puerto Rico
The National Highway Traffic Safety Administration tracks over 400 drugs that cause impairment
Almost 50% of Americans have used at least one prescription drug in the past month, according to the Centers for Disease Control and Prevention
A recent report from the Governors Highway Safety Association shows that 44% of fatally-injured drivers tested positive for drugs, up from 28% just 10 years ago
Of those, 38% had marijuana in their system, 16% had opioids and 4% tested positive for both
Identifying details in this story have been changed to protect the privacy of individuals.
Was this article valuable?
Here are more articles you may enjoy.