An adult hockey player who punched an opponent in the face during a heated game in Appleton,Wis., nearly five years ago lost a legal battle to have his insurance company pay the injured player.
The 3rd District Court of Appeals upheld an Outagamie County judge's decision concluding American Family Insurance did not provide coverage for Dustin Elbing's injuries because the policyholder, Matthew Blair, acted intentionally when he threw the punch.
Blair's policy included a provision that excluded so-called "intentional acts" from any liability coverage, the three-judge panel said.
"Hitting another person in the face is the type of act which is so certain to cause harm that the person who performed the act can be said to have intended the harm," the appeals court said.
Blair had argued he should be covered by his insurance because he was acting in self-defense. He claimed Elbing smashed him into the boards with an illegal cross-check while both players were going for the puck.
According to court records, Blair, then 20, recovered from the blow, threw his hockey stick, dropped his gloves and punched Elbing six times, once the face.
Blair was convicted of misdemeanor disorderly conduct in the incident, which occurred in the final minutes of a game on June 30, 2002, court records show. Both players were ejected.
Elbing sued Blair and American Family Insurance in 2004 in a personal injury lawsuit that claimed negligence and battery, and sought compensatory and punitive damages.
Blair said that with the insurance company out of the lawsuit, he is personally responsible for any damages that may be awarded.
Copyright 2007 Associated Press. All rights reserved. This material may not be published, broadcast, rewritten or redistributed.
From This Issue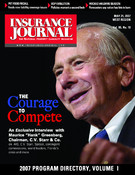 Program Directory, Vol. I; Single State Specialists