Stock Prices: Broker stock prices shifted down 5 percent in April and May. The most dramatic change came from Aon Corp., whose stock closed down 14 percent from the previous two month period due mainly to flat first quarter earnings. Aon reported first quarter 2006 net income of $198 million or $0.57 per share compared to $200 million or $0.59 per share in 2005. Net income from continuing operations was $198 million or $0.57 per share compared to $198 million or $0.58 per share a year ago. Aon had overall organic revenue growth of 2 percent. During the first quarter of 2006, Aon completed the repurchase of approximately 6.2 million shares of common stock for $247 million. Brown & Brown traded down 8 percent in April and May despite reporting strong first quarter results. Net income per share for the quarter ended March 31, 2006, was $0.36, compared to $0.31 for the same quarter 2005. Net income rose to $50 million for the first quarter of 2006, versus net income of $43 million for the first quarter 2005. The acquisition specialist reported seven completed acquisitions in the first quarter 2005, with total annualized revenues of approximately $24.6 million.
M&A Activity: Seventeen deals were announced in May, making it the most active month since January. Year-to-date, the industry is averaging 14 acquisitions per month. The increase in deal activity came as no surprise as companies reported lackluster organic growth rates for the first quarter 2006. Middle market brokers such as USI Holdings, which reported a 1.8 percent organic growth rate; Brown & Brown, which reported a retail division internal net declining growth of 0.9 percent, and Hub International, which reported 3 percent in organic growth, all announced transactions in April and May. Arthur J. Gallagher, which announced two acquisitions during this time reported no increase in revenue growth in the first quarter of 2006 after an increase of 11 percent in the same quarter last year.
Capital Raising: American Capital Strategies Ltd. has invested $35 million in a holding company established for the recapitalization of Tanenbaum-Harber, an insurance brokerage and risk management consulting firm, and Thescoe Benefits LLC, an employee benefits brokerage specialist. American Capital's investment takes the form of a senior term loan, senior subordinated debt, and redeemable preferred and common equity. American Capital is also providing a revolving credit facility. Olympus Partners is the equity sponsor and the majority owner of the company. The management teams of the combined company are also investing in the equity of the combined entity. Separately, Hub agreed to sell four million common shares at a price to the public of $26.25 per share and will receive net proceeds after underwriters' discount and commissions, but before offering expenses, of $100.3 million, or $25.07 per share. Hub intends to use the net proceeds from the offering to repay approximately $56 million of its revolving credit facility. The remaining net proceeds will be used for general corporate purposes, which may include acquisitions.
LMC Capital LLC is a national investment banking firm focused exclusively on the insurance industry. The firm can be contacted at (704) 943-2600, by e-mail at Info@LMCCapital.com or visit the firm's Web site at www.LMCCapital.com.
Was this article valuable?
Here are more articles you may enjoy.
From This Issue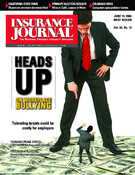 Heads up on workplace bullying