I was surprised and impressed by the efficiency and expertise shown by everyone participating in the March 3-6 National Conference of Insurance Legislators meetings in Hilton Head, S.C. When I heard hundreds of congressmen, senators and insurance industry experts from all over the U.S. were meeting in a resort well-known for more than 30 of the world's finest golf courses, I expected to see a LOT of golf and very little else get accomplished.
I knew I was in trouble when, as I registered, I was handed a packet, containing a busy schedule, a workbook with a history of each and every topic on the agenda, position papers and press releases. The workbook contained about 800 pages of data, and as if this wasn't enough, many of the speakers also gave out position papers and handouts during each session. At some of the sessions three or four groups of speakers addressed the committees!
I was especially impressed with the presentations and testimony given by dozens of insurance industry spokespersons representing industry associations and companies. Their rank and expertise varied from state insurance commissioners and directors; Wes Bissett, senior vice president of Government Affairs for the Independent Insurance Agents and Brokers of America; Neil Aldredge, state affairs director for the National Association of Mutual Insurance Companies; and Stef Zielezienski, vice president and associate counsel for the American Insurance Association –to name only the three most vocal. Each person's comments were well orchestrated, they had five minutes to make their points and then answer tough questions from the legislators.
Forty-five to 105-minute sessions were narrated with clockwork and precision by committee chairpersons. Everything was so precisely planned that each and every insurance industry spokesman had only five to 10 minutes to speak, and amazingly, none exceeded their allocation–when a spokesman stepped up to the microphone, the conference chair started a timer, with green, yellow and red flashing lights that indicated when a speaker's time was up.
The legislators were on-the-ball, knowledgeable and concerned about all the topics discussed. As an example, during the March 5 discussion about broker fees and ammendements to the NCOIL agreement, all the legislators had clearly studied the topic. Their over-all opinion was that existing legislation and regulations lumped together insurance brokers and agents. They pointed out that brokers and agents are very different and that the ammendments they made to their agreement should focus only on brokers; and care was used in how the agreement was worded to avoid overkill.
Oh, I'm sure you're wondering, did anyone have any time for golf? As far as I could tell, no one had any time to play golf until the final Saturday afternoon, after the final session at which the legislators hammered out their bid-rigging proposal–several legislators I talked to said they had gotten so involved in the meetings that by the time they tried to reserve a tee-time, they were too late.
From This Issue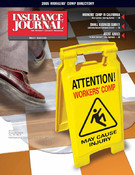 Workers' Comp Directory