In its latest report on auto insurance premiums, the Consumer Federation of America (CFA) said insurers charge higher premiums to safe drivers than to unsafe drivers. That claim seems to go against the grain when predicting risk in the insurance industry.
The CFA report looked at the five largest auto insurers — State Farm, Allstate, GEICO, Farmers and Progressive — and argued that these insurers, with the sole exception of State Farm, routinely use "non-driving-related" factors such as income level and education in their pricing decisions. The consumer group alleged that this practice can often result in safe drivers with good driving records paying higher premiums.
The study used two hypothetical drivers and sought insurance quotes in 12 cities. CFA compared premiums quoted to two 30-year-old women who each had driven for 10 years, lived on the same street in the same middle-income ZIP code, and sought minimum liability coverage required by that state.
But the two women differed in several respects: One was a single receptionist with a high school education who rents, has been without insurance coverage 45 days, and has never had an accident or moving violation. And the other woman was a married executive with a master's degree who owns a home, has had continuous insurance coverage, and has had an at-fault accident with $800 of damage within the past three years.
Relevant risk factors for auto insurance account for more than just accident history.
In two-thirds of the 60 cases studied, the insurers quoted higher premiums to the safe driver than to the driver responsible for an accident, according to the CFA. The consumer group said these higher prices mainly reflect insurer use of rating factors such as education and occupation.
The study cited what it described as wide price discrepancies in premiums quoted for drivers with similar records and said the auto insurance marketplace is "highly uncompetitive."
But for most drivers, competition is a non-issue. Most drivers have dozens of auto insurers competing for their business, said Dr. Steven Weisbart, a senior vice president and chief economist at the Insurance Information Institute (I.I.I.). Price is risk-based, and always will be, he says.
The problem with the CFA study is that it erroneously suggests what it calls "non-driving-related" rating factors are not predictive of risk, says Robert Detlefsen, vice president of public policy, for the National Association of Mutual Insurance Companies.
"CFA simply assumes that the only relevant risk factors are those involving accident history. CFA's entire critique is based on this one false assumption," he said.
In the end, auto insurance consumers do have some control over the price they pay for coverage, the I.I.I. said, since the premium is determined in part by their driving record, the type of car they drive and the miles they drive each year.
These rate-setting variables were downplayed in the CFA report, insurers say.
From This Issue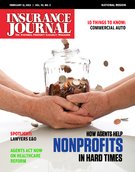 Nonprofits, Social Services & Schools; Errors & Omissions; Business Auto & Repair: Commercial Auto, Gas Stations, Service Stations, Garagekeepers Liability, Tire Dealers & New / Used Car Dealers; Bonus: The Florida Issue (Special Supplement)