A new Florida law seeks to reduce the regulatory burden on agents and adjusters by consolidating some licenses and revamping the education classes they must take.
Among the changes: insurance adjusters and agents operating in Florida will no longer need to hold multiple licenses to write different lines of insurance, and they will have more flexibility to specialize in their areas of expertise when taking continuing educational classes.
The changes come after agent and adjuster groups lobbied state lawmakers to update the rules. Florida Association of Insurance Agents Educational Instructor Bill Perkins said the changes will save agents time and money.
"These changes will reduce the cost to you and improve the communication with the Department of Financial Services," Perkins told agents at FAIA's recent Annual Convention and Education Symposium in Orlando.
Scheduled to take effect Oct. 1, one statutory provision requires agents to notify regulators electronically of their contact information within 30 days of making any changes as opposed to the 60 days that agents now have.
Perkins said the fact that all the communication to and from regulators and agents will be done electronically instead of using paper means agents must make sure to update their contact information in order to be kept informed of new rules and regulations.
Continuing Ed
Agents will see a change in their continuing education requirements starting in October 2014.
By state law, every two years all agents must take 24 hours of classes unless they have held a license for six years or more, in which case the hours are reduced from 24 to 20. Previously, as part of those hours agents had to take a three-hour course on ethics and a one-hour course on hurricane mitigation issues. Agent representatives, however, said that the repetitive nature of the courses and agents' general awareness of the issues made them unnecessary.
Under the new law, those two issues will be part of a five-hour course that will include revisions in the insurance code, industry trends, disciplinary actions and insurance products.
"There will be a lot of flexibility to developed the course and make it user friendly," said FAIA General Counsel Laura Pearce.
In addition to the five-hour course, agents will need to take 19 hours of elective credits where they can concentrate on their various specialties.
Some agents questioned why they couldn't receive education credits for the five-hour course that they are required to take to be appointed or re-certified by the Citizens Property Insurance Corp. FAIA Senior Vice President Kyle Ulrich said that lawmakers decided against that because it could create a precedent where other insurers could demand education credits for similar classes. "The DFS has taken the position they want the courses to be broad enough," said Ulrich. "So they have not approved classes that deal with things like a specific company's marketing or underwriting."
Surplus Lines Agents
Surplus lines agents will also see one major change this October. Under current law, agents seeking to write surplus lines policies must first post a $50,000 bond with state regulators and maintain that bond over the life of their license. The bond was designed to ensure that a surplus lines agent could pay taxes or service fees.
The new law repeals the need for the bond, but retains the right of regulators to sue any surplus agent who fails to pay any taxes or fees.
Adjusters Licenses Consolidated
Lawmakers also changed the licensing of adjusters so they no longer have to maintain multiple licenses.
The DFS currently offers 12 different licenses to resident independent adjusters and insurer employed adjusters. For example, an adjuster may have a license that only allows adjusting motor vehicle claims, workers' compensation claims or property/casualty claims. Under the new law, those will be consolidated into one single license. Adjusters holding a current individual license on Oct. 1 may apply for a renewal, but no new single line license will be issued after that date.
The same provision applies to temporary out-of-state adjusters who may be hired by a company or work on behalf of homeowners. The law also consolidates the 10 temporary adjuster licenses into one all-lines license. Adjusters' continuing education requirements will mirror those of agents.
From This Issue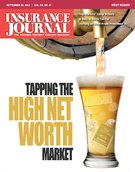 High Income / High Profile; Top Workers' Comp Writers; Residential Contractors