The federal government has approved New Jersey's plans to spend $1.46 billion in the second round of Superstorm Sandy recovery aid.
The decision by the U.S. Department of Housing and Urban Development was announced on June 2.
The plan includes slightly more housing assistance, including more aid to low- and moderate-income storm victims.
That appears to be in line with a settlement reached May 30 between the state and some housing and civil rights groups who had complained to HUD about the way New Jersey was distributing storm aid.
The state will spend $775 million of the $1.46 billion on programs for homeowners and renters, up from $735 million in its original spending plan. Of that, $490 million will go to low or moderate-income families, up from $450 million in the original plan. It also funds buyouts for homes in flood-prone areas, and protects power and water plants.
Copyright 2018 Associated Press. All rights reserved. This material may not be published, broadcast, rewritten or redistributed.
From This Issue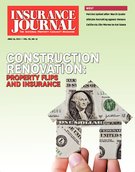 Umbrellas – Personal & Commercial; Construction; Medical Professional Liability; Bonus: The Florida Issue (Special Supplement)