A Texas attorney on June 5 was issued a 16-count indictment on charges of organized criminal activity, legal misconduct and insurance fraud related to hail claims, according to the Texas Department of Insurance.
R. Kent Livesay, an attorney with offices in McAllen and Arlington, was released on a $20,000 bond after being indicted by a Tarrant County grand jury. If convicted, he faces between 15 and 99 years in prison.
The charges stem from a TDI investigation that found multiple cases where Livesay filed lawsuits from 2014 to 2016 against insurance companies over roof claims after hail storms without the homeowners' knowledge or consent.
The case was presented to the grand jury by Tarrant County Special Assistant Criminal District Attorney Doug Wallace, who is one of six prosecutors paid by TDI who work in district attorneys' offices across the state to fight insurance fraud.
"You had homeowners learning they were parties to a lawsuit brought by an attorney they had never heard of," said TDI Fraud Director Chris Davis in the department's announcement.
TDI investigators are certified peace officers and work closely with law enforcement authorities around the state when investigating fraud cases.
In the past decade, property insurers in Texas have seen increasing numbers of lawsuits filed over claims following hailstorms and other severe weather events.
The legislature this year passed a measure that aims to curb natural catastrophe-related litigation abuse by, among other things, requiring 60-day pre-suit notice to an insurer of the intent to file a lawsuit over claims handling. It also makes it harder to collect attorneys' fees in some cases.
House Bill 1774 was signed by Gov. Greg Abbott on May 26 and takes effect on Sept. 1.
From This Issue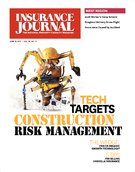 Construction; Medical Professional Liability; Umbrellas – Personal & Commercial