Members of the American Association of Managing General Agents (AAMGA) and the National Association of Professional Surplus Lines Offices (NAPSLO) have approved a merger of the two associations, creating the new Wholesale & Specialty Insurance Association (WSIA).
According to the joint announcement, 89 percent of the AAMGA's votes and 93 percent of NAPSLO's votes were in support of the merger and affirmed the creation of the WSIA, effective August 1, 2017.
Hank Haldeman, Merger Committee chair, said members voted for more than a simple merger of the two existing organizations. Instead they have "endorsed the creation of a new world-class member services association that will serve the entire wholesale, specialty and surplus lines industry."
WSIA will be governed by a board of directors that includes both legacy organizations' members.
Corinne Jones, AmWINS Access, will serve as president.
"It is an honor to serve as the first president of WSIA, and I'm looking forward to the work that's ahead," said Jones.
"This is an exciting time for our association," said NAPSLO President Dave Leonard.
WSIA became fully operational on August 1 with services and programs.
One of the first opportunities to participate at WSIA will be at the WSIA Annual Marketplace, formerly the NAPSLO Annual Convention, which is Sept. 10-13 in San Diego.
"Members will see the WSIA brand incorporated into all programs and services in coming months, as we offer a combined slate of education programs that includes all the same opportunities that each organization has traditionally offered," said Brady Kelley, WSIA executive director.
Kelley said WSIA will also continue its forum for its under-40 members by combining the programming and events of the AAMGA's Under Forty Organization and NAPSLO's Next Generation into WSIA's U40.
Was this article valuable?
From This Issue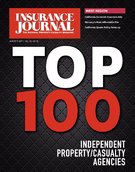 Top 100 P/C Agencies; Recreation & Leisure; Homeowners & Condos