Flood losses from Hurricane Harvey, which made landfall as a Category 4 storm late on Aug. 25 near Rockport, Texas, are expected to vastly outnumber those from wind but that doesn't mean property losses will be insignificant.
As of Aug. 29, 2017, estimates on insured losses were fluid with claims totals not anticipated for weeks at the least. While Reuters reported that some Wall Street analysts have tagged insured losses at around $20 billion, catastrophe modeling firm AIR Worldwide issued an estimate on Aug. 28 showing insured losses resulting from Hurricane Harvey in Texas likely will range from $1.2 billion to $2.3 billion. Other non-flood insured loss estimates have been in the $6 billion range.
AIR's figures do not include expected residential flood losses, which are largely covered by the National Flood Insurance Program. Some industry observers have said flood losses could reach as high those from 2005's Hurricane Katrina. The NFIP paid out more than $15 billion for Katrina-related insured flood losses in Louisiana and Mississippi, according to the Insurance Information Institute (I.I.I.).
The Houston area suffered widespread flooding for days, with some estimates of three feet of rain early on and more expected as Harvey lingered on for days over southeast Texas.
"It is the worst flooding we have ever seen and the fact that it is occurring over a heavily populated area, makes it that much worse," said Mark Hanna, a spokesperson for the Insurance Council of Texas (ICT) said a statement.
The I.I.I. noted that AIR Worldwide's loss estimate does include auto losses, additional living expenses from homeowners policies and business interruption for commercial properties. Business interruption losses that result from the closure of oil facilities were not included in AIR's loss estimate.
According to AIR Worldwide, Rockport, with an estimated population of 10,650, and surrounding coastal towns took the brunt of Harvey's hurricane-force winds. Wind speeds at landfall were approximately 130 mph, with hurricane-force winds extending 40 miles from the center and tropical storm-force winds extending 140 miles from the center.
"As devastating as the wind damage was in Rockport and surrounding towns, flooding from Harvey's torrential rains has had the greatest impact," Dr. Eric Uhlhorn, principal scientist at AIR Worldwide, said in the company's press announcement.
Still, damage was severe in Rockport, about 25 miles northeast of Corpus Christi, with collapsed masonry walls, shattered wood frame houses, roofs destroyed, overturned mobile homes and uprooted trees. Gordy Bunch, founder and CEO of the The Woodlands, Texas-based insurance services organization, TWFG, told Insurance Journal via an email message that several of the company's "offices near Rockport are lost and several of our agents and their staff have lost their homes either from wind or flood damage."
Bunch said that between TWFG and its insurance company affiliate, TWICO, the two "collectively have 500 agencies and close to 70,000 clients impacted by Hurricane Harvey and now Tropical Storm Harvey."
He said that in addition to Rockport and nearby towns, non-flood property damage is most severe in areas where tornados touched down, near Houston and in Ft. Bend and Harris Counties.
TWFG's home office in The Woodlands "is operating in CAT mode with only essential personal that can safely transit to our office," Bunch said. Other staff were working from remote locations and recording claims from throughout southeast Texas.
The Texas Windstorm Insurance Association (TWIA), the insurer of last resort for wind and hail along the Texas coast, said on Aug. 29 that its phone system had been stressed by the high volume of claims calls, resulting in long wait times and distortion on answered calls.
The organization said at the beginning of hurricane season this year that it was financially sound and has the capacity to handle up to $4.9 billion in insured losses.
From This Issue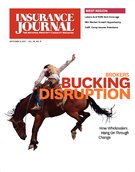 Surplus Lines: State of the Market / NAPSLO Issue; Emerging Risks; Energy