Arsenia Ann Mack, 55, of Sacramento, was arrested after she surrendered on two counts of insurance fraud and one count of grand theft.
According to CDI investigators, Mack reported a residential burglary loss on Oct. 2, 2001 to First American Specialty Insurance. She claimed that computers and other electronic devices were taken and as was asked to submit receipts to verify ownership and to determine replacement costs. The investigation revealed that Mack allegedly altered and submitted receipts that did not belong to her.
Mack admitted that she falsified four Circuit City receipts, a personal check, and two Fry's Electronics invoices, submitted them and fraudulently received $4,074.47. Bail was set at $5,000. If convicted, Mack could face up to five years in state prison and/or a maximum fine of $50,000.
From This Issue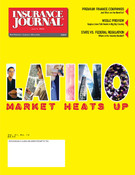 Latino Market