After the Storms: The Insurance Industry to the Rescue
When disaster strikes, the insurance industry plays a critical role in helping affected individuals, businesses and communities get back on their feet. After all, an insurance policy is a promise to pay when tragedy and catastrophes hit home.
But at times insurance coverage isn't enough. Individuals and businesses might be uninsured, or are underinsured, when disasters strike. That's when insurance companies, agents and brokers, and the industry at-large, step in to help. This is a story not often told.
The tragic and historic 2017 natural catastrophes presented an opportunity for insurance professionals to shine, not only as professionals, but also as humanitarians. Many people went above and beyond their call of duty to help.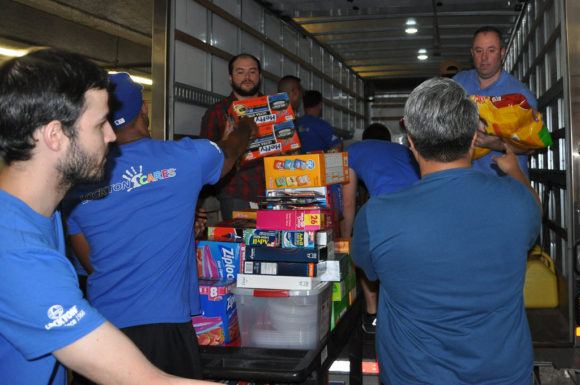 This 2017 season was the first time that three Category 4 hurricanes — Harvey, Irma and Maria — made landfall in the United States and its territories in a one-year period. All three hurricanes caused devastating loss of life and property.
Hurricane Harvey, which made landfall on Aug. 25 about 180 miles southwest of Houston, hit on home turf for Texas Mutual Insurance Co., the largest workers' compensation insurer in the state. The storm affected not only policyholders but also many employees, said Jeremiah Bentley, vice president of marketing and community affairs at Texas Mutual.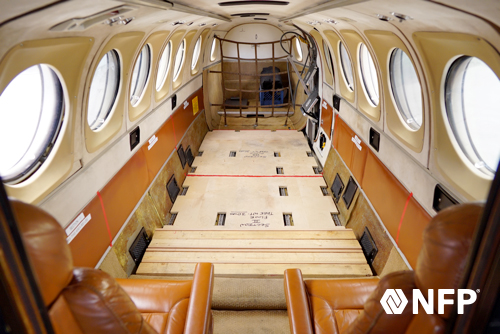 "We had to close down our Houston office for a week with 100 employees there, but 15 employees were directly affected — their homes and cars were destroyed or damaged," he said. The insurer immediately delivered care packages and gift cards, and loaned the company's cars to impacted employees.
"But then we got to thinking about what could we do that would make a difference in the entire community," Bentley said. In the past, Texas Mutual made charitable donations to other organizations for restoration efforts following large catastrophes. "But we thought, how can we best restore normalcy and help these businesses get back to work and get their employees back to work?" he said. Helping businesses stay afloat would allow those businesses to pay their employees. "It became evident that the thing we could do to help the most would be to set a disaster fund up for policyholders."
Two and a half weeks after Harvey hit the shoreline, Texas Mutual began accepting grant applications for a $10 million program for policyholders.
"We gave out up to $10,000 at a time to policyholders that were affected," Bentley said. In total, 1,107 applications were approved by Texas Mutual and the insurer tallied the final total at $10,618,497 approved grants.
It was the first time the insurer had offered a direct service program for disaster assistance and its policyholders approved.
"I broke down sobbing at my desk. God bless you," Dr. Layne Spitzenberger at Circle Lake Ranch in Katy, Texas, said in response to the grant.
"You guys are incredible; you have done more for me than my own homeowners insurance did," said Eric Blayney with Castleblayney Construction of Kingwood, Texas.
Texas Mutual was not the only insurer to give back in the wake of Hurricane Harvey.
A very partial list includes:
American International Group Inc. donated $1 million in aid to organizations focused on emergency relief and ongoing recovery following Hurricane Harvey. AIG allocated $500,000 to Houston-based nonprofits for immediate local relief efforts and the remaining $500,000 supported critical medium- and longer-term recovery efforts in partnership with The Center for Disaster Philanthropy.
The Travelers Companies Inc. committed $600,000 to Hurricanes Harvey, Irma and Maria relief efforts. Plus, employees of Travelers made financial contributions of their own to help fellow employees.
Tokio Marine Group companies donated a total of $250,000 to assist with Hurricane Harvey relief efforts.
The Assurant Foundation, the charitable arm of Assurant Inc., sent the American Red Cross $100,000 for its Hurricane Harvey relief efforts.
The insurance industry committed more than $15 million dollars directly to Harvey relief efforts, according to Alisa Breese, director, marketing and communications, Insurance Industry Charitable Foundation (IICF). Many insurers donated to the IICF disaster relief funds set up specifically for Hurricanes Harvey, Irma, Maria and the California wildfires.
These storms were unprecedented, as was the amount of contributions made to IICF's relief funds. Collectively, a total of $554,000 was raised, which Breese said "is by far the largest IICF disaster relief campaign ever." Donations came in from insurance carriers primarily, but more than 1,000 individual donors from the industry also contributed.
The funds support local nonprofits working directly in affected areas. "And 100 percent of donations from the campaign go directly to the relief effort; there's no administrative cost to it," she said.
Agents and brokers helped, too.
The Trusted Choice Disaster Relief Fund was created to assist agents and their employees as they rebuild following natural catastrophes, says Madelyn H. Flannagan, vice president, agent development, education and research, at the Independent Insurance Agents and Brokers of America (IIABA). It was set up after Hurricane Katrina and helps every year. However, this year it's been very active.
"Each year we give out whatever we have but this year has been a tremendously large year considering the hurricanes, floods and fires," she said.
To date, the Trusted Choice Fund has given out more than $400,000 in 2017 to member and nonmember agents of the IIABA to help them recover, but anyone affiliated with the insurance industry can apply, she said.
The fund is supported by insurance carriers, as well as agents that want to help.
Agents are a very giving bunch. "The minute that something happens state associations, agent leaders and agency groups jump in to donate to the fund. We receive huge donations from agents. They want to help their fellow agents," said Flannagan.
Lockton Companies' employees created a disaster relief fund of their own. The brokerage's associates from around the world donated to the Lockton Disaster Relief Fund to provide assistance to affected employees and communities in the wake of the 2017 natural disasters. This aid included a truckload of much needed supplies to Houston for associates, their families and friends, and the local community.
Lockton agreed to match employee contributions to the fund up to $250,000. According to Jennifer Schuler, Lockton's organizational communications manager, the fund generated more than $550,000 for relief efforts, $300,000 from Lockton employees.
After Hurricane Maria hit Puerto Rico, it became clear that help was needed at NFP's Puerto Rico office, Ikon, which housed 75 NFP and Ikon employees.
"It became very clear, very quickly that there were not enough provisions of emergency supplies," said Lara Nichols, senior vice president of procurement for NFP.
"Food and water were of primary importance, but we also knew we needed to put some supplies in the hands our people to help customers," she said.
NFP partnered with Univision and Ankura for hurricane relief. Univision and NFP chartered a passenger plane rigged as a freight plane with 2,000 pounds of supplies that arrived within days of the hurricane. The supplies included transistor radios, prepaid cell phones, batteries, food items and other necessities. Two more shipments of 2,500 pounds of food and 30 generators also were sent, funded by NFP's GoFundMe page to which employees also donated.
There are countless stories of charitable efforts by the insurance industry beyond those in this issue of Insurance Journal. As IICF's Breese says, "The industry has been incredibly responsive and generous during this very difficult disaster driven year."