In Service to the Nation's Finest
Serving current and former military personnel and their families is what the employees of Military United Insurance (MUI) in Columbia, Mo., do, and they love it.
Employee after employee responding to Insurance Journal's 2019 Best Agencies to Work For survey expressed pride and satisfaction in their work helping service members with their insurance needs. They noted, too, that not only is the work meaningful, it's fun. MUI respondents also commended the agency's emphasis on customer service, the coaching and training opportunities that are provided, and the environment that encourages learning and agent development.
Military United Insurance's selection as IJ's 2019 Silver Best Agency to Work For in the Midwest region is the result of the overwhelming praise and appreciation for their workplace articulated by the agency's employees.

"Military United Insurance is a veteran-centric organization. We are passionate about assisting the military community by providing affordable home, auto and life insurance. We recognize the challenges that military families deal with on an everyday basis and are committed to enhancing their lives with our great customer service and insurance options," wrote one survey respondent.
Wrote another: "I am proud to work here because I feel that I make a difference to my customers because I can take the time to properly educate my customers on their coverage, which many say they have never had an agent do before. This relationship-building helps my customers trust me, Military United and the product that I am selling them."
The agency has 50 employees and revenues of between
$1 million and $10 million annually, according to MUI Executive Director Tom Schwarz, who said the firm is growing at a rapid pace.
MUI "employees take great pride in what we do each day to serve veterans and make their insurance experience as easy, informed and productive as it can be," Schwarz said. "Our team is close knit, and we genuinely care for each other, our customers and our partners (lead sources, carriers, etc.)."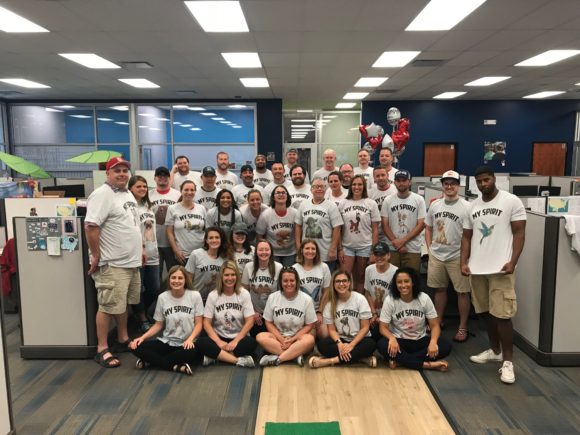 As one employee said, MUI "has created an amazing team environment to work in. The leadership and agents truly care about helping veterans and helping them to find a great insurance solution. They are constantly working to improve systems, relationships with companies, and the compensation to help ensure everyone is happy in their role."
In addition to taking care of veterans' insurance needs, MUI takes care of its employees "better than any company I have ever been around. From weekly free lunches, free snack machines and free fruit, to free gym memberships and numerous fun company outings throughout the year, MUI is second to none in taking care of its employees," said a respondent.
Schwarz said the MUI model "is very different from a traditional agency. Our volume and pace require team members to work fast but not sacrifice quality. We have a great balance of working extremely hard but enjoying ourselves and celebrating successes."
The people who work at MUI "care immensely for each other, our community and the incredible customers we serve," one survey respondent wrote. "We're proud of our incredible growth in the last year and our ability to maintain (and grow) a positive, productive, and enthusiastic culture. We're really excited for continued improvement in our ability to serve our nation's finest."
Another expressed appreciation for the agency's leadership, stating they "have an 'open door' at any time if you want to discuss any ideas or allegiances, and you will be listened to by all levels of management. We would not be as successful as we are today without their guidance."
According to Schwarz, creating a workplace where people want to come every day and strive to do their best comes down to caring. "Care about people, relationships and culture as much as you do about results. We don't hide the fact that we're results-oriented — delivering results is one of our core values, but it's not all we're about. Genuinely invest in people and the results tend to take care of themselves," he said.