Armored Car Services
Market Detail: The Mechanic Group (www.mechanicgroup.com) offers E&O, commercial excess, CGL, workers' comp, fidelity bonds, D&O, umbrella, liability, contractors license bonds, and EPLI.
Available limits: As needed
Carrier: Unable to disclose, admitted and non-admitted
States: All states
Contact: Marc Katz at 800-214-0207 or e-mail: mkatz@mechanicgroup.com
Homeowners
Market Detail: Myron Steves (www.myronsteves.com) specialize in the following risks: primary and secondary occupancies; business name; duplex; townhouse; single family dwelling; risks with prior losses; risks with no prior insurance; risks with swimming pools, trampolines and domestic animals (exclusions or limitations apply); log homes; risks on stilts, pier and beam, blocks and crawl spaces. Product features include: direct bill available; age of risk credit (10 years or newer); 50+ credit (insured age 50 and over); alarm discountptional RCV on dwelling and contents for HOA; optional RCV on contents for HOB; accidental discharge of water for full policy limit included on HOB & available on HOA (HO-170); additional extended coverage including $10,000 aggregate limit for accidental discharge of water available on HOA (MFS-170) available; HO-160 available.
Available Limits: As Needed
Carrier: Unable to Disclose
States: Texas only
Contact: Claudia May at 713-351-8227 or e-mail: cmay@myronsteves.com
Grain Growers
Market Detail: Agricultural Insurance Management Service (AIMS) (www.aimscentral.com) mission is to provide retail insurance brokers with help in placing their agricultural risks. Brokers are matched with a carrier to provide a broad range of farm and farm-related coverage for the homes, property, auto, business and operational assets of America's farmers and ranchers.
Available limits: As needed
Carrier: Various
States: Ariz., Ark., Calif., Colo., Dela., Fla., Ga., Iowa, Ill., Ind., Ky., La., Maine, Mich., Mass., Md., Miss., Mo., N.C., N.H., N.J., N.M., N.Y., Ohio, Pa., R.I., S.C., S.D., Tenn., Texas, Utah, Va., and Vt.
Contact: Jan Pouliotte at 877-552-2467 or e-mail: jlp@aimscentral.com
Personal Trainer
Market Detail: Sports & Fitness Insurance Corporation (SFIC) (www.sportsfitness.com/ij) offers general liability insurance including professional liability, property insurance, umbrellas, workers' compensation and surety bonds for large and small fitness centers, as well as, dance, yoga, Pilates and martial arts studios and personal trainers. The underlying general liability policies provide limits from $1 million occurrence with a $2 million aggregate to $2 million occurrence with $4 million aggregate.
Available limits: As needed
Carrier: Liberty Mutual
States: All states
Contact: Kate Martello at 601-898-8464 or e-mail: kmartello@sportsfitness.com
Contractors
Market Detail: Sullivan Brokers Wholesale Insurance Solutions (www.sbwis.com) has coverage for all types of contractors, including: general, trade, or specialized; large or small projects; commercial or residential.
Available limits: Minimum $1 million, maximum $10 million
Carrier: Unable to disclose, admitted and non-admitted available
States: All states
Contact: Vicki Snow at 213-833-6174 or e-mail: vicki.snow@sbwis.com
Mexico Insurance
Market Detail: Sun Coast General Insurance (www.SunCoastInsurance.com) offers auto, motorcycle, RV & motorhome Iinsurance coverage for tourists traveling into Mexico. Daily or annual rates available online 24/7 (quote, bind and print certificates at the point of sale). Competitive rates and many coverage options available. Sun Coast has been providing independent agents with reliable products since 1980, including personal lines, commercial lines, and ocean marine.
Available limits: Minimum $30,000, maximum $150,000
Carrier: Various, non-admitted available
States: All states
Contact: Rosie Garcia at 949-768-1132 or e-mail: rgarcia@suncoastinsurance.com
From This Issue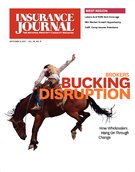 Surplus Lines: State of the Market / NAPSLO Issue; Emerging Risks; Energy