Mike Barron
Texas Mutual Insurance Company announced that Mike Barron is the company's new senior vice president of financial services. Barron is a certified public accountant with over 30 years of experience in finance.
Barron has served as vice president of financial operations at Texas Mutual since 2003. His resume includes 12 years with Big Eight accounting and consulting firms.
Barron previously served as deputy executive director for finance and administration at the Texas Workers' Compensation Commis-sion, deputy treasurer for the State of Texas, and chief financial officer of the Texas Teacher Retirement System.

Ron Lawson
The Republic Group (Republic), based in Dallas, appointed Ron Lawson as director, Product Development and Marketing of insurance operations. In this newly created position, Lawson will assist in the development of Republic insurance products to accommodate the needs of agents and policyholders.
Lawson began his insurance career with Safeco Insurance Company in Atlanta in 1986. During his eighteen years at Safeco, he held increasingly senior positions, until being named assistant vice president of Marketing for the Dallas region. He later joined Cypress Texas Lloyds, a monoline personal property insurer, as director of Sales.
Lawson serves on the Board of Governors of the Texas FAIR Plan Association and is a past director of the Texas Windstorm Insurance Association.

Diane Sandlin
Summit Global Partners of Texas Inc. selected Diane N. Sandlin as property and casualty practice leader for its Austin and Houston offices. Sandlin will manage SGP's relationships with underwriters serving both offices and oversee customer services for its property and casualty clients.
Sandlin has 26 years in the insurance industry. Prior to joining SGP, she was vice president and branch manager for CNA Insurance Company in Houston. She is an Associate in Risk Management (ARM) and is active in professional and community organizations in both Houston and Austin, including Junior Achievement, Habitat for Humanity, Meals on Wheels and the Lady Bird Johnson Wildflower Center. Sandlin will be based in SGP's Austin office.

Ron Klimek
Ron Klimek joined the Dallas office of Western Security Surplus Insurance Brokers as production underwriter.
Klimek comes on board with a strong insurance background. He began his insurance career at the Allied Group in Des Moines, Iowa, where he worked as underwriter. After moving to Ft. Worth, he worked at Millers Group and then moved onto Maryland Casualty. Choosing to continue in the insurance carrier arena, Klimek spent the last six years at Zurich Insurance Services.

Diane Koken
Members of the National Association of Insurance Commissioners (NAIC) elected three new officers in interim elections held during the 2004 NAIC Fall National Meeting. Pennsylvania Insurance Commissioner Diane Koken is the new NAIC president, Oregon Insurance Administrator Joel Ario is vice president, and Maine Insurance Superintendent Alessandro Iuppa will serve as secretary-treasurer.
The interim elections were held after the resignation of Ernst Csiszar, former South Carolina director of insurance and president of the NAIC on Aug. 18. Just two weeks later, Jim Poolman, vice president and commissioner of insurance for North Dakota, who was next in line to become president of the association, submitted his resignation after deciding not to seek the NAIC presidency.
Cunningham Lindsey U.S. Inc. (CLUS), based in Dallas, promoted Jim Devall to director of E&S. Devall, with more than 20 years of claims experience, began his specialization in the surplus lines market in 1989. He joined CLUS in June 1995 in the company's E&S branch. His wealth of experience and contacts has proven to be a significant asset for CLUS.
Cunningham Lindsey U.S. Inc. is an independent insurance services company, providing a wide range of claims adjusting services including commercial property and liability, personal lines, catastrophe response, and environmental assessment and remediation. CLUS is a subsidiary of Lindsey Morden Group Inc., whose parent company is Fairfax Financial Holdings Limited.
America First Insurance named Arthur E. Lackey territory manager for Oklahoma and Arkansas. In this position, Lackey will have responsibility for marketing America First Insurance products and services to the company's licensed independent agents and profitably growing its business in the region.
Lackey has served the insurance industry for over 30 years, and has held a variety of positions ranging from field operations, underwriting to management. Most recently, Lackey served as marketing consultant for America First Insurance's corporate office in Dallas.
A member of Liberty Regional Agency Markets (RAM), America First Insurance serves independent agents licensed with the company in Arkansas, Louisiana, Oklahoma and Texas. It has offices in Dallas and Ruston, La.
Richard Huntington joined Palmer & Cay in the position of Southwest Health Care practice leader. Huntington will be based in the firm's Dallas office and focus on expanding Savannah, Ga.-based Palmer & Cay's health care business and presence in the southwestern United States.
Prior to joining Palmer & Cay, Huntington served as relationship manager in AON's Dallas office, responsible for insurance brokerage and risk management consulting services to clients in the health care sector. He also served as senior consultant in AON's Alternative Risk and Actuarial Consulting division.

Anco Insurance Managers Ltd. announced that Chip McKenzie and Peggy Sheley have been selected to manage Anco's new office in the Houston area.
Together, McKenzie and Sheley bring over 50 years of professional insurance experience to their customers. McKenzie's insurance experience dates back to 1981 and Sheley has over 30 years experience in the property and casualty insurance field.
The new Houston facility will join another Anco-affiliated agency in the West Houston/Katy area.
Wayne F. White, president and chairman of Home Mutual Fire Insurance Co., Conway, Ark., has been elected chairman of the board of the National Association of Mutual Insurance Companies (NAMIC).
In addition, Robert A. Wadsworth was named NAMIC chairman-elect. Wadsworth is president and chief executive officer of Preferred Mutual Insurance Co., New Berlin, N.Y.
Gerald P. Schmidt, president of Mutual of Enumclaw Insurance Co., Enumclaw, Wash., was elected vice chairman, and John T. Hill II, president and chief operating officer of Magna Carta Cos., New York, continues as secretary/treasurer of the association.
Newly-elected members of the NAMIC board of directors are: Barbara Baurer, executive vice president/COO, Country Insurance and Financial Services, Bloomington, Ill.; Brian V. Boyden, executive vice president, State Farm Mutual Automobile Insurance Co., Bloomington, Ill.; John Bykowski, president/CEO, Secura Insurance Cos., Appleton, Wis.; John W. Fisher, president, Auto-Owners Insurance Co., Lansing, Mich.; Philip E. Love, executive vice president/CEO, South Carolina Farm Bureau Mutual Insurance Co., Cayce, S.C.; Richard M. Raun, secretary/treasurer, Woodland Mutual Insurance Co., Carlton, Minn.; Daniel E. Stone, president/CEO, Indiana Farmers Mutual Insurance Co., Indianapolis.
The Insurance Marketing Communications Association (IMCA) named Ron Rice as president for the 2004-2005 year.
Rice is National SuretyLink program manager for Safeco Insurance in Redmond, Wash., where he oversees the development and deployment of all e-commerce services for Safeco Surety. He joined IMCA in 1992 and has been a member of the board since 1999.
Fran Harding, president of Mainsail Communications and IMCA president from 2002 – 2004, serves as immediate past president. Harding retired in August from Zurich North America, where she was associate
vice president of corporate and marketing communications.
Other officer appointments include: Cora Barran, advertising manager for Farmers Insurance – executive vice president; Allen Basis, publisher of Risk & Insurance magazine – vice president; Catherine Smith, marketing director of HCC Surety Group – assistant vice president; Richard Look, communications director of Venture Programs – secretary/treasurer; Reg Pierce, managing partner of InMarket Partners – past president (at large).
Elected to the board of directors for 2004 – 2005 are: Katherine Carlson, Campbell-Ewald; Linda Collins, Arthur J. Gallagher & Co.; Robert Martin, Co-operators General Insurance Company; Jane Rodriguez, St. Paul Travelers; Ken Luker, Business Insurance; Dena Kaplan, Insurance Journal; Dan Lance, National Underwriter; and Mark McClellan, Rough Notes Company.
Was this article valuable?
Here are more articles you may enjoy.
From This Issue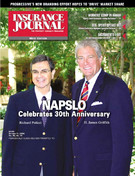 Oil and Gas