Terry Adams
The new national officers of the National Association of Professional Insurance Agents were installed during the group's recent board of directors meeting held in Orlando, Fla. Terry Adams of Ashland, Ore., will become president of PIA National; Ray Peretti of Renton, Wash. will become president-elect; Donna Pile of Lexington, Ky., will be vice president; and Robert Page of Houma, La., will become secretary treasurer.
The National Association of Mutual Insurance Companies (NAMIC) has promoted Gregg A. Dykstra, Roger H. Schmelzer, and David A. Winston to senior vice president from vice president.

Roger Schmelzer
Schmelzer heads NAMIC's State and Regulatory Affairs Department. Already responsible for the State Affairs Division and the Legal & Regulatory Affairs Division, Schmelzer now supervises the recently added Public Policy Division. Schmelzer has worked at NAMIC since 1999.

David Winston
Winston heads NAMIC's Federal Affairs Department. He leads the association's federal lobbying efforts from NAMIC's Washington, D.C., office including its grassroots efforts and political action committee. As senior vice president, Winston's role will expand to include an increased emphasis on development of the PAC. Winston joined NAMIC last December.
Dykstra heads NAMIC's Internal Operations Department. Already responsible for human resources, finance, and building services, Dykstra will now also supervise the vice president of the Information Technology Department. A claims arbitration function was also added to the IT Department. Dykstra will continue to serve as general counsel. He has worked at NAMIC since 1997.

Ron Rice
The Insurance Marketing Communications Association (IMCA) has elected Ron Rice as president for the 2004-2005 year. Rice is National SuretyLink program manager for Safeco Insurance in Redmond, Wash., where he oversees all e-commerce services for Safeco Surety, a top writer of surety bonds. Rice has more than 20 years experience in marketing and communications.
Other IMCA officers appointed are: Cora Barran, advertising manager for Farmers Insurance, as executive vice president; Allen Basis, publisher of Risk & Insurance magazine, as vice president; Catherine Smith, marketing director of HCC Surety Group as assistant vice president; Richard Look, communications director of Venture Programs as secretary/treasurer; and Reg Pierce, managing partner of InMarket Partners as past president. Elected to the IMCA board of directors for 2004/05 are: Katherine Carlson, Campbell-Ewald; Linda Collins, Arthur J. Gallagher & Co.; Robert Martin, Co-operators General Insurance Company; Jane Rodriguez, St. Paul Travelers; Ken Luker, Business Insurance; Dena Kaplan, Insurance Journal; Dan Lance, National Underwriter; and Mark McClellan, Rough Notes Company.

Bill Litjen
San Diego-based insurance brokerage G.S. Levine Insurance Services Inc. has announced the promotion of Bill Litjen to president. He joined the firm in 1997 and most recently held the position of chief operating officer. During his 27-year career in the insurance industry, Litjen has worked with another San Diego insurance brokerage firm as well as with one of California's largest insurance companies.
Chrystin McHugh has been named marketing communications specialist at Delaware Valley Underwriting Agency (DVUA), announced Edward Levy, senior vice president. McHugh joins DVUA with more than four years of corporate communication experience in the health care and finance industries. She will be working out of DVUA's corporate headquarters in Hatboro, Pa., where she will be responsible for public relations, communication, graphic design, events planning and the implementation of new marketing strategies.
Selective Insurance Group Inc., headquartered in Branchville, N.J., announced the following executive appointments:
Gerard S. Heim of Mt. Airy, Md., to assistant vice president and regional claim manager of Selective's Chesapeake region. He oversees Selective's claims operations in Maryland, Delaware, Virginia and the District of Columbia.
Jonathan Oltman of Bethlehem, Pa., to assistant vice president of Selective's One Done strategic business unit, managing the small business agency-issue product. Oltman joined Selective in June 1996 as a commercial lines underwriter and formerly held positions as an agency management specialist and risk consultant for Selective.
Stephanie Pierret of Andover Township, N.J., to assistant vice president and manager of data architecture of Selective's information technology area, where she is responsible for data base administration and data architecture.
Robert A. Raus of Rocky Hill, Conn., to assistant vice president of Selective's information technology services. He is responsible for the company's personal lines automation systems.
The claims services firm, GAB Robins, recently named Patricia Dern as assistant vice president and general manager for the its New York cluster and Gail Oliver as assistant vice president and general manager for the mid-Atlantic region of its claims services division which provides insurance carriers, brokers, managing general agencies and self-insured entities with loss adjusting services for property, casualty and workers' compensation claims.
The New York Young Insurance Professionals re-elected Michael Cracco of Bellmore, N.Y., to a second term as chairperson. Cracco is principal of Completely Covered Insurance Agency in Massapequa. Directors elected for two-year terms expiring in 2006 include: Donna Chiapperino of Blauvelt, director of marketing for Jimcor Agencies in Montvale; Nicholas Leff of Brooklyn, a marketing representative and underwriter with Trans World Facilities in Forest Hills; Eugene Podokshik of Brooklyn, an account executive for Frank Crystal & Co. in New York; Louis Santangelo of Staten Island, owner of Vehicle Brokerage of Staten Island Inc.; Jordan Stern of Great Neck, a commercial marketer for Capitol Payment Plan in Great Neck.; and John Parsons II of Skaneateles, vice president of Parsons & Associates in Syracuse.
Was this article valuable?
Here are more articles you may enjoy.
From This Issue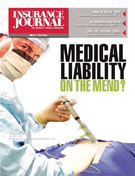 Professional Liability