Privately owned insurance and risk management firm McQueary Henry Bowles Troy LLP (MHBT), announced that Chuck Hoffmann re-joined the firm's Dallas office as senior vice president of Personal Insurance Professionals.
Hoffmann was a part of the MHBT family in the early 1990s, serving as manager of Personal Insurance Professionals.
His prior experience outside of MHBT includes serving as vice president of the Private Client Services Practice at Marsh Inc. and also as managing director of the CTX Insurance Agency. Hoffmann also has insurance company experience in the areas of underwriting and management in the personal lines field with American General Fire & Casualty Companies.
In addition, Jeremy Sandusky joined MHBT's Dallas office as account executive in the property and casualty group.
Sandusky has more than 10 years of solid experience in construction-related industries, specializing in commercial property and casualty insurance. Prior to joining MHBT, he served as an account executive for another Dallas-Fort Worth agency and as an account executive for Southern Star Concrete Inc. (formally Hanson Building Materials and Pioneer Concrete).
Texas Farm Bureau Insurance Co. named Mike Gerik to head its Texas insurance operations. Gerik was promoted to executive vice president of the Texas Farm Bureau Mutual Insurance Co. and vice president/state manager of the Southern Farm Bureau Casualty Insurance Co.
Gerik has worked with Farm Bureau since 1980, most recently serving as vice president of the Texas Farm Bureau Mutual Insurance Co.
Gerik's career started in policy services in 1980. He later moved to underwriting in 1985, research and development in 1988, vice president of administration in 1995, and vice president of policy services in 2000.
Ron Klimek was promoted to branch manager of Western Security Surplus' Dallas office. Klimek began at WSS two years ago as production underwriter with a strong insurance background.
He began his insurance career over 15 years ago at the Allied Group in Des Moines, Iowa, where he worked as underwriter. After moving to Ft. Worth, he worked at Millers Group and then moved onto Maryland Casualty.
Continuing in the insurance carrier arena, Klimek spent the last six years at Zurich Insurance Services.
The Central Texas Chapter of the CPCU Society (Chartered Property Casualty Underwriters) announced the newly elected officers for 2006-2007.
The new officers include: President Staci Scott, operations team manager of State Farm Insurance; President-Elect Stephanie Harvey, senior underwriter of Texas Municipal League — IRP; Vice President Kim Kimball, auto underwriting team leader of State Farm Insurance, Secretary Sharon Reed, personal lines operations manager — Texas, of Farmers Insurance Group, and Treasurer Chris Grunska, finance supervisor of State Farm Insurance.
RG America Inc., a Dallas-based insurance restoration company specializing in recovery, remediation, roofing and re-construction of insurance losses, promoted Bruce A. Hall, who has been serving as chief financial officer, to the position of CEO.
Hall has extensive experience with public company management, financing and strategic planning. In addition to his positions as CFO and CEO, he will join RG America's Board of Directors.
Current CEO J.E. (Ted) Rea is leaving the company to found an investment firm.
John B. Collins Associates Inc., a reinsurance broker, announced that David Galleger joined Collins' Dallas office as a vice president.
For eight years, Galleger worked for another reinsurance intermediary, the Benfield Group, also in the Dallas area. He specializes in commercial lines and underwriters of non-standard auto coverages and will be responsible for new business and the servicing of existing accounts in several southern states.
Earlier this year, Collins added a new branch office in Tampa, Fla., which reports to the Dallas office.
Kathie Stepp was promoted to assistant insurance commissioner at the Oklahoma Insurance Department. Stepp previously directed the department's Property and Casualty Division. She has worked at the insurance department for more than 20 years.
FARA, a third party administrator of insurance services located in Mandeville, La., appointed Michelle Boullion as director of Human Resources.
Boullion is responsible for all human resource functions for FARA. She is based in the company's corporate office in Mandeville.
Boullion previously served as the director of employee relations for Turner Industries Group LLC, in Baton Rouge, and has a total of twelve years of work experience in Human Resources. She is currently an adjunct faculty member of the Management department at Southeastern Louisiana University in Hammond, La., where she teaches Human Resource Management classes.
Hartwig Moss Benefits, a division of 135 year-old New Orleans-based Hartwig Moss Insurance Agency Ltd., added client relations associate, Tammy Percle, to its Client Service Team.
Percle comes to Hartwig Moss Benefits from Metropolitan Gastroenterology, a large physician group with three locations in the New Orleans area. Prior to this, Percle worked in Customer Service for Ochsner Health Plan.
Hartwig Moss Benefits is a full service employee benefits consulting firm based in New Orleans, La., with offices in Baton Rouge and Austin, Texas.
To submit information for People, e-mail sjones@insurancejournal.com.
From This Issue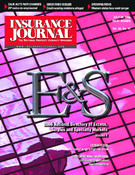 2006 Excess, Surplus and Specialty Markets Directory, Vol. I