The Insurance Industry Charitable Foundation named Gary C. Petrosino, executive vice president of Chubb & Son and western U.S. territory field officer for Chubb, to the foundation's national board of governors.
IICF combines the collective resources of the insurance industry to give back to communities through grants and volunteer service.
Petrosino has been in insurance more than 30 years. Since joining Chubb in 1978, Petrosino headed the New York zone marine operations, served as the Albany, N.Y., branch manager and was the Latin American zone officer. In Petrosino's role as Western U.S. territory field officer he oversees field operations for the Chicago, Cincinnati, Dallas, Denver, Los Angeles and Minneapolis regions.
IICF was established in 1994 and is directed and funded by the insurance industry. Since its inception, the group has contributed more than $18 million to hundreds of community nonprofits. IICF is a registered not-for-profit organization under section 501(c)(3) of the IRS code.
Philadelphia Insurance Cos., a property/casualty and professional liability company for niche markets, promoted three marketing employees to the vice president level in its Western region.
Bryan Luci was promoted from regional vice president of marketing to senior vice president of marketing for the Western territory. Lindsay Billings was promoted from assistant vice president to regional vice president of marketing for the Sunbelt region. Matt Carroll was promoted from regional sales manager to vice president of marketing.
Luci started with the company 14 years ago as a marketing representative, Billings started as an intern in 2002 and Carroll joined in 2009.
Philadelphia Insurance Cos. designs, markets, and underwrites commercial property/casualty and professional liability insurance products for select industries. The company has 46 offices across the U.S.
Philadelphia Insurance Cos. is the marketing name for the property casualty insurance operations of Philadelphia Consolidated Holding Corp., a member of the Tokio Marine Group.
Socius Insurance Services Inc., a management liability and property/casualty insurance wholesaler, announced the impending retirement of Chief Operating Officer Carol Rizzo and the promotion of Chris Hook to director of operations and his relocation to the firm's San Francisco headquarters.
Socius will merge its Sacramento operations into its San Francisco headquarters.
The role of director of operations will replace Rizzo's COO position when she retires on Dec. 31.
Rizzo started with Socius in 2001, and guided the firm through several office openings, a corporate name change and its transition to a paperless environment.
Hook has been managing Socius's Sacramento office since 2004.
Privately held Socius Insurance Services has regional offices in Los Angeles, Sacramento, Elgin, Ill., and in Florida in Tampa and Miami. Socius specializes in D&O, E&O, EPL, property/casualty and umbrella coverages.
Walnut Creek, Calif.-based Ascension Benefits & Insurance Solutions named Jani De La Rosa senior vice president.
De La Rosa will be responsible for managing program designs, benefit strategies and business development. She will also serve as lead benefit consultant for Ascension's large group clients.
De La Rosa has more than 26 years of experience, including non-profit and charitable organizations.
Ascension Benefits & Insurance Solutions is part of Ascension Insurance Inc., an employee benefits firm. Ascension is headquartered in Kansas City, Mo., and has 35 offices throughout the U.S.
CompWest Insurance Co. COO and co-founder Ron Field, and Lynn Ross, vice president of marketing and business development, are retiring from the San Francisco, Calif.-based firm.
Field's retirement was effective April 13. He will continue to work as a contractor to ensure a smooth transition of his responsibilities. Ross' retirement is effective on Dec. 31. She remains in her current role through the end of the year to help identify her replacement.
CompWest will be filling both positions. Field's position will be replaced with a vice president of product management and underwriting.
CompWest is part of Lansing, Mi.-based Accident Fund Holdings Inc., a workers' compensation insurer.
San Diego, Calif.-based Arrowhead Wholesale Insurance Services named Tony McIntosh assistant vice president of its workers' compensation practice in Northern California.
McIntosh, who will be headquartered in Bencia, Calif., has more than 25 years of experience in California workers' compensation and has held positions in various capacities on both the carrier and agency side of the business, including field underwriting, program development and management and wholesale brokering.
He will be responsible for primary and excess workers' compensation brokering along with agency development for AWIS.
Concord, Calif.-based Jenkins Insurance Group, a Leavitt Group firm, named Peter French vice president in its construction and real estate practice.
French's primary focus will encompass commercial, civil and residential construction, as well as real estate. He has experience in the insurance industry as well as construction experience.
Jenkins has offices in Concord, Sacramento and San Jose, and provides risk management, property/casualty insurance and employee benefits programs.
As a Leavitt Group firm, Jenkins is part of a network of more than 80 independent insurance agencies across the United States.
Willis North America, a unit of Willis Group Holdings, named Max Gilman regional operations officer in Willis' personal lines practice in San Francisco, Calif.
Willis provides employee benefit and risk management solutions across a range of industries. Willis' personal lines practice provides personal risk solutions and placement services to individuals and families with complex risks. The practice includes roughly 250 private client professionals located across the United States and Canada.
Gilman will have operational responsibility for Willis associates serving clients in the personal lines and private client practices across Washington, California and Arizona. He will also be responsible for brand awareness and leading business development in Northern California. He will report to Sandra Bravo, CEO of Willis' personal lines.
Prior to Willis, Gilman served as vice president at Marsh Private Client Services. He has also held leadership roles at Applied Underwriters and Nextel Communications. Gilman is based in San Francisco.
Del Mar, Calif.-based Champion Risk & Insurance Services L.P. an affiliate of Wood, Gutmann & Bogart Insurance Brokers, named Elizabeth Long as an employee benefits consultant.
Long started her career in the import-export business as human resources manager. She has more than 14 years of employee benefits experience. Prior to Champion, Long served as a client executive with Barney & Barney LLC.
Long specializes in cost containment, various funding arrangements and implementing benefits plans together with employee wellness programs.
Champion specializes in lines of personal and business insurance, as well as life and health and employee benefits.
Larry Pratt, Farmers' vice president of sales, was appointed as head of distribution for California for Los Angeles-based Farmers Insurance.
Pratt started with Farmers in June 1990 in Vancouver, Wash. Prior to being promoted to his current office, he was Alabama state executive director, Texas executive director and most recently the home office vice president of sales.
Farmers Group Inc., a management and holding company, along with its subsidiaries, is wholly owned by the Zurich Financial Services Group.
Brent Humes has retired from his position as executive vice president of Monterey, Calif.-based Strongwood Insurance Holdings Corp.
Humes served with Strongwood for 10 years.
Prior to Strongwood, Humes spent more than 30 years with The Hartford.
Humes was instrumental in the development of Strongwood distribution companies including Networked Insurance Agents, Northeast Agencies and most recently, Amcom.
From This Issue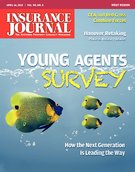 Big "I" Issue with Young Agents Survey; Medical Professional Liability; Business Interruption / Business Income; Bonus: Education & Training Directory