Standard & Poor's Ratings Services affirmed its "BBB-" counterparty credit rating on CNA Financial Corp. and its "A-" counterparty credit and financial strength ratings on CNA's insurance affiliates (except for Continental Assurance Co., which is rated "BBB+"). The outlook on all of these companies remains negative.
The ratings reflect CNA's strong market position in commercial lines, historically weak operating performance, substantially improved capitalization, and the demonstrated capital support of CNA's ultimate parent, Loews Corp.
At the end of April 2004, CNA completed the balance-sheet restructuring initiated in November 2003 to help offset the effect of a $2.85 billion reserve strengthening charge ($1.85 billion after-tax) and a $610 million ($396 million after-tax) increase in the provision for reinsurance and insurance receivables. During this period, the company raised $1.4 billion of new capital. Included in S&P's analysis is the effect on statutory and GAAP capital of the aggregate stop-loss reinsurance contracts in force at year-end 2003, and the current rating is fully reflective of S&P's conclusions in this regard.
As part of the restructuring, the company exited the assumed reinsurance, group benefits, and individual life businesses and is now focused exclusively on its commercial property and casualty business. CNA posted pretax income of $78 million in the first nine months of 2004 versus a loss of $2.6 billion in the prior year. The company is benefiting from the strong pricing environment of the past three years, savings from the restructuring and expense-reduction steps it has undertaken, and the absence of significant prior-year reserve strengthening. The 2004 pretax result includes $278 million of losses arising from hurricane activity.
About $1.7 billion of total debt was outstanding at CNA as of September 2004, down from $1.9 billion at year-end 2003.
From This Issue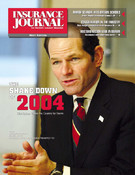 2005 A Look Ahead