Sweeney Named Vice President for TD Insurance
TD Insurance has named Mark P. Sweeney as vice president in Providence, Rhode Island.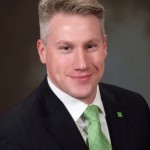 He is responsible for new client development as well as the management of health and welfare plans for clients in the commercial and middle market segments. Sweeney's geographic responsibilities include Rhode Island, Southeastern Massachusetts and the Cape Cod
Sweeney has 13 years of experience in insurance and banking. Prior to joining TD Insurance, he served in similar positions at Fleet Bank in Providence, and Bank of America in Providence and Boston.
TD Insurance is a subsidiary of TD Bank.