The Graham Company in Philadelphia Appoints Vice Chairman, COO
The Graham Company, one of the Mid-Atlantic region's largest insurance and employee benefits brokers, appointed Michael Mitchell as vice chairman and Kenneth Ewell as president and chief operating officer. Both have served as executive vice presidents for the past three years.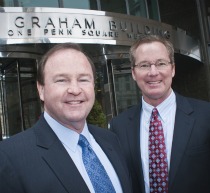 Founder William Graham will remain as chairman of the board and chief executive officer. Mitchell and Ewell, who are the two largest individual minority shareholders of The Graham Company, will report directly to Graham. As vice chairman, Mitchell, who started at the brokerage 27 years ago, will focus on the planning, development and implementation strategies to support the brokerage's growth.
In his role as president and chief operating officer of The Graham Company, Ewell, who began his employment at the company in 1989, will now expand his duties to oversee all of the brokerage's operations. He will be responsible for client services, to ensure a high level of account management, income growth and retention.
Based in Philadelphia, The Graham Company is an insurance and employee benefits broker that offers services to business owners in high-risk industries like construction, manufacturing, distribution, chemical, health and human services and others.