Willis Tabs Zurich Exec to Lead U.S. Construction Surety Business
Willis North America, a unit of global insurance broker Willis Group Holdings, appointed Sean McGroarty as New York-based national surety leader of Willis North America construction practice.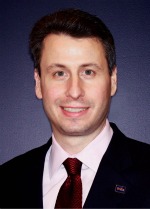 Previously, McGroarty served as senior vice president and head of international surety with Zurich Financial Services. He has more than 20 years experience in the surety industry, which also includes leadership roles at Liberty Mutual Group and St. Paul Companies.
In his new role at Willis, McGroarty will be responsible for directing surety operations across the North American platform. He will lead a team of over 160 surety professionals, working with regional teams to drive growth and align resources and offer brokerage services for contract and commercial surety. He will also focus on product innovation and carrier management. He will report to Rick Hawkinberry, CEO of Willis North America construction practice.
In addition to his North America focus, McGroarty will work closely with John Phinney, head of Willis North America international surety, to expand Willis' global surety capabilities.
Willis North America construction practice is comprised of over 700 dedicated professionals in over 70 offices, serving roughly 12,000 clients in North America, including contractors, owners, construction professionals and design firms. Globally, Willis' surety practice serves clients in over 80 countries.