Delaware Launches 'Click It or Ticket' Seat Belt Enforcement Campaign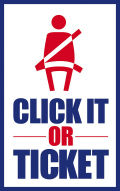 Delaware state officials kicked off their annual "Click It or Ticket" seat belt enforcement campaign this week.
The annual vehicle safety campaign began Monday with the help of 17 state, county and municipal law enforcement agencies.
This year's campaign message is "Seat Belts Save More Lives Than We Do," a reference to real-life crashes, injuries and deaths encountered by Delaware paramedics.
Official say extra enforcement in the form of checkpoints and saturation patrols statewide will be conducted for two weeks starting this week, with a focus on night time enforcement.
Delaware law requires drivers and all passengers to wear seat belts. Officers will be issuing citations for seat belt violations as part of a zero tolerance policy. The $83.50 ticket goes to the driver, no matter who in the vehicle is unbuckled.
Copyright 2020 Associated Press. All rights reserved. This material may not be published, broadcast, rewritten or redistributed.