For Law Firm Dewey & LeBoeuf, the Time May Have Come for Last Rites
For Dewey & LeBoeuf, the time may have come for last rites. It has laid off hundreds of employees, been hit with lawsuits for not paying its bills and continued to shed partners, including on Wednesday the last member of its top management team.
As late as Wednesday afternoon, however, a spokesman for Dewey insisted the "firm is not formally closed."
The defection of Washington, D.C., lobbyist L. Charles Landgraf for Arnold & Porter means there are no partners remaining in Dewey's office of the chairman, a five-lawyer group assembled in March to govern the firm in the face of mounting problems. Stephen Horvath III, Dewey's executive partner in charge of day-to-day operations, appears to now be the top manager of what remains of the law firm.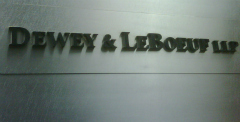 Of the roughly 300 partners with the firm in January, only around 50 remain. Dewey, which has about $225 million in debt, is facing a growing number of lawsuits dealing with everything from unpaid rent to pension funding.
Instead of filing for bankruptcy, Dewey appears to be attempting to liquidate outside of court – a strategy that one lawyer for creditors said cannot guarantee fairness.
"In my view, this company has to be put into a bankruptcy," said Annette Jarvis of Dorsey & Whitney, a bankruptcy lawyer who represents a group of 51 retired pension partners at Dewey predecessor LeBoeuf, Lamb, Greene & MacRae. "There has to be transparency."
One option, Jarvis said, would be to force Dewey into an involuntary bankruptcy filing. "We are working on that," she added.
Little Legal Business
Little legal business is being conducted at the firm and Dewey & LeBoeuf told lawyers last week that it would cease operations in California.
It has laid off 433 of 533 employees in New York, according to the New York State Labor Department. A May 10 letter to associates notifying them of the layoffs stated that "the situation is deteriorating at a more rapid pace than was initially anticipated."
Lawsuits Pile Up
Lawsuits are piling up. Last Friday, a company controlled by Property Group Partners sued the firm for more than $927,000 in unpaid rent in Washington, D.C. The landlord is seeking possession of Dewey's 140,000-square-foot offices on New York Avenue.
On Monday, Dewey was sued by the U.S. Pension Benefit Guaranty Corporation, a government agency that wants control of the firm's three pension plans, which were underfunded by $80 million, the PBGC said.
In addition, a former employee has filed a proposed class action against Dewey stemming from its layoffs and ABM Janitorial Services, which provided janitorial services to the firm, sued Dewey in New York state court claiming it was owed $299,000. On Wednesday, a temporary-attorney staffing company called Diamond Personnel LLC sued Dewey in New York state court for failing to pay more than $740,500.
Office of Chairman Shuttered
Landgraf had been the managing partner of Dewey's Washington, D.C., office and chairman of the firm's legislative and public policy group. His clients have included Lloyd's of London, the Association of Dutch Insurers, The Financial Services Roundtable and Liberty Mutual Insurance Co.
His departure follows that of other members of the office of the chairman, which Dewey created on March 27 amid partner defections to take over responsibility from its then sole chairman, Steven Davis.
Last Friday, Dewey bankruptcy partner Martin Bienenstock said he would leave the firm to join Proskauer Rose. His announcement came two days after Jeffrey Kessler and Richard Shutran, two other partners in the office of the chairman, said they would leave to join Winston & Strawn and O'Melveny & Myers, respectively.
Davis, who was also initially a member of the office of the chairman, was removed from all leadership roles on April 29 after the firm said in a memo that the New York District Attorney was investigating allegations of wrongdoing against Davis. Davis has denied any wrongdoing. A spokeswoman for Davis declined to comment on Wednesday.