Redmer Takes Oath of Office as Maryland's Insurance Commissioner
The Maryland Insurance Administration (MIA) announced that Al Redmer, Jr. took the oath of office on Feb. 27 to serve as Maryland's insurance commissioner. Redmer succeeds Therese M. Goldsmith, who stepped down from the post when Lawrence J. Hogan, Jr. assumed the Maryland governor's office on Jan. 21.
Gov. Hogan swore in Redmer as well as five other top-level officials at the Feb. 27 State House ceremony.
"I am honored to serve the residents of Maryland as their insurance commissioner once again," said Redmer, who previously held the position from 2003-2005. "I've spent my entire adult life in insurance, and look forward to using my experience to help consumers while making the marketplace more competitive."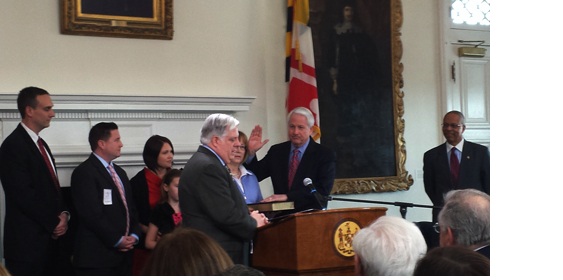 Before being named insurance commissioner, Redmer managed Redmer Insurance Group LLC, and owned Redmer Financial Group. His business experience includes time as partner and president of Landmark Insurance & Financial Group and as CEO of Coventry Health Care of Delaware Inc. He served 13 years in the Maryland General Assembly representing Baltimore County, two of those years as the House Minority Leader.
Redmer's term as insurance commissioner runs through May 31, 2019.