Insurance Society of Philadelphia to Honor Starr's Greenberg with Leadership Award
The Insurance Society of Philadelphia (ISOP) announced that Maurice R. "Hank" Greenberg, chairman and CEO of C.V. Starr & Co. Inc., is the recipient of its 2016 Distinguished Leadership Award.
The Distinguished Leadership Award recognizes an industry executive who "demonstrates exemplary leadership, has promoted the stature of the insurance and associated industries in the community, and global marketplace, and who has provided ongoing support to community events and charitable enterprises."
As part of the award the recipient is provided with $10,000 to be directed to a charity of his or her choosing.
The award will be presented at ISOP's Independence Gala networking and charity event in Philadelphia on Nov. 16.
Proceeds from the Independence Gala support ISOP and its scholarship fund. During the gala members will also raise money for Citizens for Fire Prevention to purchase lithium battery smoke detectors for Philadelphia residents.
Greenberg was named head of American International Group (AIG) in 1962, where he served until 2005. Under his leadership AIG reached $242 billion in market capitalization in 2000, the equivalent of more than $337.6 billion today.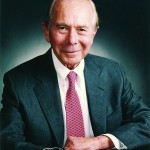 A veteran of World War II and the Korean War, Greenberg is a recipient of the French Ordre National de la Légion d'Honneur for his service in World War II. He has also received the Bronze Star Medal of the United States and the insignia of Commandeur de l'Ordre National de la Legion d'Honneur for his leadership of AIG.
In addition to supporting charities in North America and Asia, Greenberg has also served on the boards of several organizations, including the Council on Foreign Relations and Federal Reserve Bank of New York.
"The Insurance Society of Philadelphia is thrilled to welcome Mr. Greenberg to the Independence Gala," said Ken Ewell, member of ISOP's board of directors and chair of the Independence Gala Dinner Committee. "During his illustrious career, he helped build the largest insurance and financial services corporation in history, through which Mr. Greenberg helped provided security to a countless number of families."
Founded in 1901, ISOP is a non-profit organization dedicated to education and professional development of insurance professionals working in the insurance, legal, healthcare and financial services industries. ISOP offers classes and continuing education credit opportunities; it also hosts The Independence Gala, Philly I-Day and Week of Giving.