Surplus Lines Bill Among Laws Vetoed by R.I. Governor As She Clears Desk
Among the three laws vetoed by Rhode Island Governor Gina Raimondo as she cleared her desk of all pending legislation last week was a bill relating to surplus lines insurance.
The bill – 2018 – H 7909 Substitute A – was pushed through the General Assembly in the final minutes of the legislative session, the Associated Press reported.
It would have mandated that payment to surplus lines brokers by producing agents could not be due any earlier than 45 days after the end of the month in which the transaction occurred, according to Raimondo's veto message. This would have been a change to current state law, she added, which allows policies to be cancelled within 10 days of notice of non-payment to a surplus lines broker.
"This is a well-intentioned bill that is intended to help local insurance agents and consumers," Raimondo said in her veto message. "However, I have heard from insurance brokers, carriers, and some local agents that the timeframe allowed in this legislation might be too long."
The bill was introduced in February by Representative Scott Slater. Raimondo stated in her veto message she believes the legislation needs additional work, and she looks forward to working with the sponsors and advocates on a bill they can propose next year.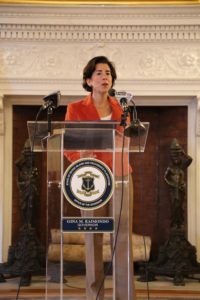 "I am committed to working with the General Assembly in the next session to achieve the intended goals of the legislation in a better format while protecting against unintended consequences," she stated.
The additional two laws vetoed by Raimondo included 2018-H 8352, which aimed to establish the abuse or isolation of elders and dependent adults as a felony punishable by up to three years in prison and/or a $3,000 fine, and 2018-S 2442, which sought to require that real estate sellers disclose to potential buyers if the premises had been used for marijuana cultivation.
In clearing her desk, Raimondo also signed 183 bills, meaning there is no additional legislation currently awaiting her action, according to a press release issued by her office.