Swiss Re Corporate Solutions Hires Allianz' Baacke as Head of Risk Engineering Services
Swiss Re Corporate Solutions appoints Tina Baacke as global head Risk Engineering Services, effective Jan. 1, 2021.
In this role, Baacke will be responsible for leading a global team of experts that provides ri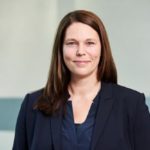 sk knowledge, data insights, tools and services to help customers improve and maintain continuous business operations by identifying and managing their exposures.
Based in Munich and reporting to Kera McDonald, chief underwriting officer bespoke, Baacke succeeds Martin Schürz, who will retire in February after almost 30 years with Swiss Re.
Baacke brings 20 years of insurance industry and consulting experience to this role, most recently as global head of Risk Consulting for Allianz (according to her LinkedIn profile). She also has extensive experience in Catastrophe Risk Management and has built and managed large global teams in various leadership positions in EMEA and APAC.
She is a Diplom-Ingenieur in Agricultural and Environmental Engineering from Justus-Liebig University of Giessen in Germany.
"We are thrilled to attract and welcome a talent like Tina to our team. She is a seasoned leader with a proven track record in helping customers develop and refine their approach to risk resiliency and risk management," said McDonald.
"Martin has our best wishes for his retirement after a tremendously successful career. He has been instrumental in developing our risk engineering services practice by bringing in innovative, cutting-edge risk assessment tools, digital analytics and new customer service offerings. I'm proud to have worked with Martin and he will be greatly missed," added McDonald.
Source: Swiss Re Corporate Solutions