Storm Slams North Dakota City, Injuring Dozens
Authorities say more than two dozen people were hurt, three critically, when a violent storm whipped through a northwestern North Dakota city, trapping some people in overturned recreational vehicles.
The McKenzie County Sheriff's Office says the storm moved through Watford City shortly after midnight Tuesday, hitting an RV park the hardest.
Sheriff's officials say about 20 of the 28 injured were staying at the Prairie View RV Park where high winds overturned some campers and damaged mobile homes.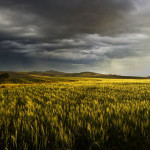 McKenzie County's emergency manager, Karolin Jappe, says at least three people suffered critical injuries. Jappe says about 150 people are staying at the Watford City Civic Center where a temporary shelter has been set up. The Red Cross is assisting those displaced by the storm.
Copyright 2021 Associated Press. All rights reserved. This material may not be published, broadcast, rewritten or redistributed.