Clifford to Lead Risk Placement Services' Workers' Comp Programs in Michigan
Risk Placement Services (RPS), the E&S wholesale broker, managing general agency and program administrator, has appointed Joe Clifford to lead its self-insured workers' compensation programs in Michigan within its RPS Signature Programs division.
Clifford succeeds Tim Hanna, who has retired after a successful career.
Clifford has spent his entire insurance career in Michigan self-insured workers' compensation program administration. During this time, he has developed years of expertise in each of the primary areas required to effectively manage self-insured group funds.
In his new role, Clifford is responsible for the general oversight and management of seven Michigan self-insured funds currently under RPS management, making his team the manager of the largest number of group workers' compensation funds in the state.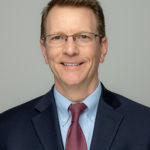 He acts as the primary coordinator of all aspects of fund management, including the funds' board of directors' correspondence, state regulatory oversight, underwriting protocols, excess insurance negotiations, claims management practices, risk management services and the distribution of the programs through independent insurance agents.
RPS Signature Programs manages a variety of specialized programs on behalf of highly rated carriers, offering proprietary insurance solutions in niche markets. Headquartered in Rolling Meadows, Illinois, RPS Signature Programs is a division of Risk Placement Services.
Source: RPS