Best Agency to Work For: Overall
This year six agencies in all received top honors as a Best Agency to Work For. The Best Agencies to Work For in 2012 include: Bryan Insurance Agency, Graham, Texas; Meyer & Cook Insurance, Walnut Grove, California; Walker Myers Insurance & Risk Management, Austin, Texas; Herbie Wiles Insurance, St. Augustine, Florida; Hausmann-Johnson Insurance, Madison, Wisconsin; American Insurance Services, Clark, New Jersey.
Insurance Journal wishes to thank the many customer service representatives, account executives, producers, managers and other agency staff who took the time to nominate their independent insurance agency in this year's survey.
Small Town Values Creates Strong Ties
---
Graham, Texas
Bryan Insurance Agency
---
Together everybody achieves more — that's the motto of Bryan Insurance Agency in Graham, Texas, the Overall Best Agency to Work For in Insurance Journal's 2012 nationwide survey.
In a town of just 8,000 people, reputation is everything to a small business. Building a good reputation with quality service to back it up is critical to success. It's just not possible without teamwork, says Tommy Dies, chief financial officer at Bryan Insurance.
"We treat everybody here as if they were our family," Dies said. "We live in a small community so we don't have a large pool of job applicants to choose from so we try to treat our employees very special. Insurance is a tough business and it's highly stressful, and we manage to run a very profitable agency with minimal staff."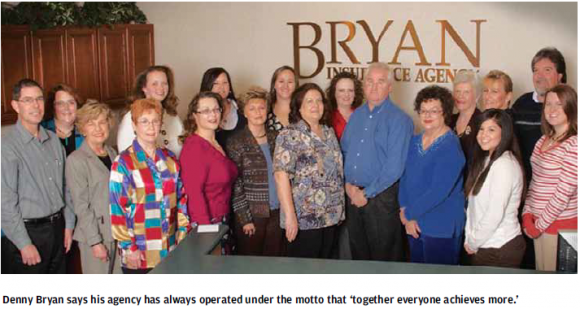 Dies knows the employees at Bryan Insurance have to work hard to keep up the pace. Bryan Insurance serves the North Texas area, writing all lines of insurance, including commercial, personal, life and health policies. The agency has a specialty in the oil and gas sector, including accounts across the nation, and writes around $18 million in property/casualty premium annually.
"We work employees very hard but we also try to reward them, not just monetarily but by treating them with dignity and respect," Dies said.
That means caring about every employee's personal life, too. "We are very flexible in terms of letting employees take off with fairly short notice so that they can go and enjoy their children. That's very important," Dies said.
That respect carries down through each employee in the agency. "We have about 20 or so employees and most of them are women," Dies said. "I've been here a little over 10 years and have been amazed at how everyone takes care of each other. When somebody is out, the rest of the team just jumps in and takes care of their accounts."
One employee said: "We are a professional organization, but I really feel like Bryan Insurance is a family. We all work together for common goals and enjoy our successes. The agency supports the employees in all areas including professional development as well as personal life."
Founded in 1921, the agency has built a solid reputation in its community and beyond. Bryan Insurance has been recognized in multiple years as an Independent Insurance Agents & Brokers "Best Practices Agency."
In 2010, the agency was named as Insurance Journal's Best Agency to Work For in the South Central region as well.
Denny Bryan, managing owner of Bryan Insurance, says he is honored to be named twice as a Best Agency to Work For. "We do treat this agency like a family and try to keep it that way even as we keep growing," he says. "We want to remember that our employees are here to help us, our clients, (and they) put food on their table and our table, too."
Another employee spoke highly of Bryan's leadership, stating: "The owner is always fair, considerate, patient, clear of his instructions for the job at hand, even willing to pay for continuing education classes."
Dies believes that employees enjoy working at Bryan Insurance for much more than the salaries. "We do try to stay competitive in the salary area, but being in a small town we can't compete with Houston, Dallas, San Antonio-type agencies," he says.
But there are other benefits that Bryan Insurance is able to offer such as telecommuting positions or work-from-home options for some staff.
"If kids are sick they can go home and take care of their kids and still work from their home," Dies says.
"We also have six people that work remote. They came to work for us in Graham, but had to move because of family situations, and we didn't want to lose them and they didn't want to lose us." Now those employees work remotely in other cities.
Dies said the agency also believes in sharing its success with those who helped create it.
"We try to do an end-of-year sharing of the profits. If we've had a good year we want our employees to know that it's because of them that we had a good year," Dies said.
Overall, Denny Bryan says everyone in the agency is part of a team. "We operate under the motto that together everybody achieves more," he said.
That motto has worked well throughout the history of Bryan Insurance.
Other Best Agencies to Work For in 2012 include:
West: Meyer & Cook Insurance, Walnut Grove, California
South Central: Walker Myers Insurance & Risk Management, Austin, Texas
Southeast: Herbie Wiles Insurance, St. Augustine, Florida
Midwest: Hausmann-Johnson Insurance, Madison, Wisconsin