FBI Calls Boston Marathon Bombings 'Potential' Terrorist Act
The FBI said the investigation of the explosions at the finish line of the Boston Marathon is a "criminal investigation that is a potential terrorist investigation."
The FBI, with Special Agent Richard DesLauriers in charge, has taken the lead in the investigation.
The death toll has risen to three, with an 8-year-old child and 29-year-old woman among them. More than 100 people are being treated at area hospitals for injuries, some of them grave and involving amputations.
DesLauriers said that "substantial" federal resources are being brought to bear on the investigation. The FBI is coordinating with Boston and Massachusetts State Police, Homeland Security and other federal agencies.
Officials have said they have no suspects in custody but that they are speaking to a number of people. Police searched an apartment in Revere, a city north of Boston. One of the apartment's tenants is reportedly a 20-year-old Saudi Arabian student who is being treated in a Boston hospital for burns from one of the explosions. But police said today that the man has been cleared and he not a suspect.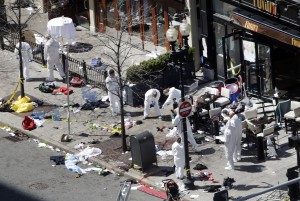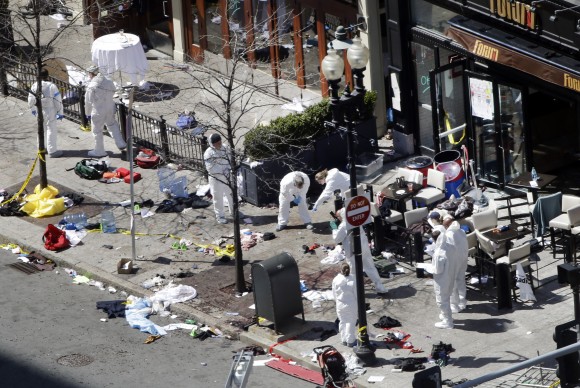 Police appealed to members of the public to share any information they might have.
Gov. Deval Patrick said Boston will be under "heightened" law enforcement while the investigation continues. This will include random checks of subway passengers' carry-on bags and knapsacks.
A multiple block area around where the blasts occurred was cordoned off as a crime scene. Police began re-opening some of the streets to traffic this morning. Some businesses have been and will continue to be affected. The Boston Bruins and Boston Symphony Orchestra cancelled last night's scheduled events.
Last evening, Boston Police Commissioner Ed Davis said law enforcement officers were still getting reports about possible suspicious packages.
"We are not at ease yet," Davis said.
This morning in hearings on Capitol Hill, Defense Secretary Chuck Hagel became the first White House official to tie the bombings to terrorism, calling them a "cruel act of terror."
Later in the morning, President Obama also referred to the attacks an "act of terrorism."