Rusbuldt on McKinsey 4: Trusted Choice, CAP as Part of Agents' Internet Strategy
Bob Rusbuldt, president and CEO of the Independent Insurance Agents and Brokers of America – the Big "I"- takes issue with a McKinsey report that claims local independent agents will soon be extinct. In this fourth installment from an interview with Andy Simpson, Rusbuldt discusses Trusted Choice branding and the new Consumer Agents Portal (CAP) that are working together to improve independent agents' visibility with Internet shoppers.
The Big I, obviously, is invested in the future of independent agents. The Trusted Choice brand and the partnership you have going for a project, Consumer Agent Portal, CAP. How do those two come together to help agencies deal with some of these pressures that they're facing?
Rusbuldt: That's a good question. The Consumer Agent Portal is, frankly…The bottom line is to enable independent agencies to conduct business the way a number of consumers want to do business. As I said, over 70 percent are going online looking at auto insurance before they talk to anybody or before they purchase auto insurance. There is a huge segment of the population that wants to at least get research and information online. Independent agencies are located all over, in every town of America, but it has been hard to find them on the electronic highway. CAP, the Consumer Agent Portal, via trustedchoice.com…You can now go to trustedchoice.com, put in your zip code, and find your local Trusted Choice independent agency in your backyard.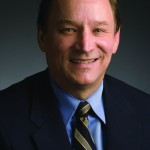 We have a comparative rater function to that that's been rolled out in two states, Minnesota and Indiana. It will go nationwide over the next 12 to 14 or 15 months. If you want to get quotes online, you can. If you want to talk directly to your trusted independent insurance agent, you can, at any point in the process.
It is going to be a great way for consumers to get information, to research, to talk to a trusted advisor, and to get quotes online, if that's what they want to do. We're going to offer consumers the ability to walk in an agency on Main Street America or to come into an agency through the electronic highway.
Customers will be able to get the rate comparisons that they seem to want plus the contact with a local agent if they want, in one place?
Rusbuldt: Correct. Almost nobody buys online. Consumers don't like to buy it online. They want to talk to a trusted advisor. As I said earlier, the difference with travel agents is that these are complex products. There is no way you are going to treat booking a plane ticket the same way as protecting your most valuable asset in your life, which is your house.
They are two radically different things. Before people buy insurance on their house, they want to make sure they have the right coverage, and a good and fair price, with a reputable company that is going to pay their claims when they have a claim. Yes, CAP is engaged in social media, in digital marketing, in search engine optimization for agencies, local optimization at the local level. We have tons of success stories already.
We have six companies that have invested in this. We have several other carriers that we're going to be announcing in the next few weeks that have joined, and we expect many, many more. We're approaching 2,000 agencies that have signed up for the Consumer Agent Portal, that have published profiles. That is growing every day, by numerous agencies.
The reason it's growing is because agents realize that the consumer is king. Frankly, Andy, it's not about the way independent agents want to do business. It's not about the way carriers want to do business. It's about the way consumers want to do business. The Internet has empowered consumers, and independent agents realize that. They are adapting to it rapidly. That's why McKinsey's conclusions, in some respects, are wrong.
Is the Consumer Agent Portal available to agents in every state, or is it still being rolled out?
Rusbuldt: No, it's available today in every state to every Big I member, Trusted Choice agency. What is only available in two states today is the comparative rater portion of the Consumer Agent Portal. I would urge everybody to go to trustedchoice.com. You can see what's there for yourselves. You can put in your zip code and those sorts of things. Agencies can sign up by going to projectcapmarketing.com. The comparative rater function will be rolled out over the next 14 months or so in all states.
Rusbuldt on McKinsey and the Future of Independent Agents:
Read: https://www.insurancejournal.com/news/national/2013/10/28/309300.htm
Read: https://www.insurancejournal.com/news/national/2013/10/29/309305.htm
Read: https://www.insurancejournal.com/news/national/2013/10/30/309313.htm
Read: https://www.insurancejournal.com/news/national/2013/10/31/309315.htm
Read: https://www.insurancejournal.com/news/national/2013/11/01/309318.htm