Ex-U.S. Security Chief Ridge, Guy Carpenter, Lloyd's Launch Cyber Policy
Reinsurance specialist Guy Carpenter & Co. is launching a new cyber privacy and network protection product with Ridge Insurance Solutions Co., a new Lloyd's managing agency led by Tom Ridge, former U.S. secretary of Homeland Security and Pennsylvania governor, as chairman.
The product is designed for small- and medium-sized companies and will be underwritten by five Lloyd's syndicates in the cyber arena: Brit, AEGIS London and Novae as lead underwriters, and Barbican Insurance Group and ACE.
The product offers three components:
An initial on-site assessment of existing cybersecurity capabilities conducted by the Ridge assessment team, which will provide recommendations to reduce cyber exposures. Premiums charged for the insurance will be directly tied to compliance with the recommendations.
A comprehensive cyber privacy and network protection insurance policy that includes business interruption coverage; privacy and security liability; crisis and event management costs; information assets and cyber extortion. The policy provides coverage on a worldwide basis with a capacity limit of US $50 million.
The final component provides rapid response remediation services in the event of a cyber breach.
"Insurance need not be just a 'policy' written by an agent," said Ridge, "but a true focal point for assessing, identifying and correcting the impact of cyber risk on your business. This is not just about insurance, but helping and incentivizing companies to manage their cyber operations more effectively. Partnering with some of the leading cyber syndicates in the Lloyd's market has helped elevate the standing of our solution well above that of any standard cyber product."
Nick Gralton, managing director of North American Casualty at Guy Carpenter, said his firm acted as the broker, helping Ridge and his team establish the parameters of the product, place the facility into the Lloyd's market and arrange the supporting reinsurance program.
Rick Welsh, head of Cyber Insurance at AEGIS London, said that much of the narrative surrounding cyber risk is "too narrowly focused on compliance" and does not adequately address the concerns of small and medium-sized companies.
"We are delighted to be partnering with Ridge because we feel they understand that holistic risk management and incident response should be central to cyber insurance. For many of our clients globally the primary focus is business continuity and we know that Ridge shares that philosophy," he said.
Ridge Insurance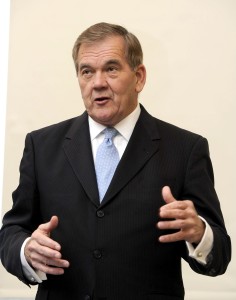 Ridge Insurance Solutions Co. has offices in New York, Washington, D.C. and Alpharetta, Georgia.
After the terrorist attacks of September 11, 2001, Ridge was named the first assistant to the President for Homeland Security and, on January 24, 2003, he became the first secretary of the U.S. Department of Homeland Security, an agency that brought together 180,000-plus employees from 22 agencies to create a new agency to deal with security at air, land and seaports, develop a national response and recovery plan, and protect critical infrastructure. Ridge served as DHS secretary until February, 2005.
Before the events of September 11th, Ridge was twice elected governor of Pennsylvania, serving from 1995 to 2001.
Ridge is currently chief executive officer of Ridge Global, a security and risk management advisory firm. He serves as co-founder of the strategic advisory firm, Ridge-Schmidt Cyber, an executive services firm and he is also a founding partner of the Ridge Policy Group, a government affairs firm with offices in Washington, D.C. and Harrisburg, Penn.
John J. Fleming, III, is co-founder and president of Ridge Insurance Solutions Co. Fleming has experience in underwriting and claim management within the specialty property/casualty marketplace.
Since 1988, he has been chief executive officer with Fleming and Hall Administrators (FHA), a national third party administration firm providing risk management, claims management and information management services to specialty and surplus lines insurance and Lloyd's markets. FHA also provides services for self-insured entities, captive insurance companies and public entities, pools and trusts. FHA is headquartered in Atlanta, Georgia, and has four regional offices in New York, Georgia, Florida and California, according to its website.
Fleming will direct over-all business operations including underwriting, product development, price modeling, and marketing.
Steve Kohler is chief executive officer of Ridge Insurance Solutions. He is an executive vice president at Ridge Global, the security consulting firm founded by Ridge. Kohler previously served as president of Space Florida, a statewide special district focused on economic development within the Florida aerospace sector. Before that, Kohler was the president of Winner Global Defense, a company focused on aircraft countermeasures and laser-based detection technologies. Earlier, he served as a senior vice president with CB Richard Ellis/Pittsburgh. In June 1996, then-Governor Ridge appointed Kohler to lead the Pennsylvania Governor's Action Team, where he was responsible for financial incentives for industrial and business expansion projects.