FSOC's Woodall Warns of 'Inappropriate' Global Influence On U.S. Policy
Roy Woodall, a member of the U.S. panel charged with preventing another financial crisis, said he is concerned that global regulators have too much influence over policy in Washington.
"International regulatory organizations may be attempting to exert what I consider to be inappropriate influence on the development of U.S. regulatory policy," Woodall, the member of the Financial Stability Oversight Council with insurance expertise, said in testimony prepared for a Senate Banking Committee hearing Tuesday.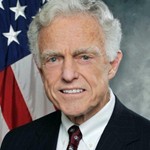 Woodall said U.S. interests may be underrepresented at the Financial Stability Board, a group of regulators from around the world, including the U.S., that makes recommendations to the Group of 20.
The council, or FSOC, has designated as systemically important four non-banks: American International Group Inc., General Electric Co.'s finance unit, Prudential Financial Inc. and MetLife Inc. Woodall said the FSOC had decided "not to advance for further review" five other non-bank companies, without naming them. As part of a broad restructuring General Electric announced this month, the finance unit will apply to lose its systemically important label sometime next year.
In separate testimony prepared for the same hearing, Mark Van Der Weide, deputy director of the Federal Reserve's Division of Banking Supervision and Regulation, said the central bank is working on rules for insurers it oversees.
The Fed is "committed to following formal rule-making processes to develop our insurance capital framework," including an open comment period on a proposal, Van Der Weide said.