GM Tells Ignition Switch Jury: 'Sometimes Accidents Just Happen'
"Sometimes, accidents just happen," a lawyer for General Motors Co. told a U.S. jury in defense of the carmaker at a test trial over a deadly flaw in millions of ignition switches.
The accident was one of dozens that occurred on a New Orleans bridge during a January 2014 ice storm, GM attorney Mike Brock said at the start of a trial that may affect the outcome of hundreds of other cases. Even the police cruiser that responded to the crashes was rear-ended by an ambulance near the site of the pileup, he said.
Plaintiffs Dionne Spain and Lawrence Barthelemy suffered minor injuries and didn't report additional problems until weeks later, Brock said. The vehicle, Spain's 2007 Saturn Sky, also had only minor scratches and wasn't even moving fast enough to trigger the airbag, according to the attorney.
"This is a case about a car that doesn't even have a dent," said Brock, of Kirkland & Ellis LLP in Washington. "This car is not the villain in this case."
The trial is the second of six bellwether cases, so called because they are used to test strategies. The jury's reaction to the evidence may push either side to settle — or battle out — hundreds of other cases and help set the size of any settlements. The first trial ended abruptly midstream when GM revealed the plaintiffs had lied about their finances. The carmaker picked the second case to be tried.
Millions Recalled
Detroit-based GM recalled millions of vehicles in 2014 over flawed ignition switches that could accidentally shift and shut off the engine, disabling the power steering and brakes and preventing air bags from deploying. Despite those admissions, GM is disputing hundreds of claims over accidents that the company says weren't related to the defects.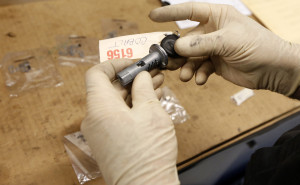 The plaintiffs' lawyer, Randall Jackson, told jurors in his opening statement that the case is about a pattern of "broken promises by a broken company."
"A car is a promise, two tons of steel with an engine, wrapped in a promise: safe transportation," Jackson said. "The evidence in the case is going to show that GM, the company defending this case, broke that promise."
Spain's injuries, reported weeks after the crash, weren't caused by the accident but rather were work-related, according to GM. Barthelemy's back pain was the result of him sitting in jail for several days for an unrelated traffic violation, rather than the crash, GM said.
Car Stolen
Spain's vehicle also had many owners, was caught in a flood one time, and had been stolen before she owned it, Brock said.
"This accident is not GM's fault," he told the jury.
Jackson said the jury would be shown evidence that GM secretly carried out a redesign of the ignition switches without alerting the public or initiating a recall.
"It was a clear acknowledgment that GM knew about the problem," Jackson said.
The first day of testimony focused on evidence of the switch flaw and the way it was covered up for years by GM.
In the first trial, Oklahoma mail carrier Robert Scheuer claimed he was thrown out of his home because of injuries he suffered in a wreck.
Altered Stub
GM said it discovered evidence after the trial had started that the plaintiff had lied about the details of his family's eviction in the months after his 2003 Saturn Ion ran off a road and hit a tree. GM showed he was kicked out for altering a check stub that was meant to provide proof he had money to pay for the house.
Scheuer and his wife dropped the lawsuit and each hired a criminal defense lawyer. Neither was charged. It was seen as a major setback for the plaintiffs and triggered a war of words among lawyers, including calls for some to be removed from the case.
In re General Motors LLC Ignition Switch Litigation, 14-MD-2543, U.S. District Court, Southern District of New York (Manhattan).