The Hartford Names Tooker as Head of Middle Market Segment
The Hartford has named A. Morris "Mo" Tooker, currently chief underwriting officer, as head of its Middle Market segment.
Tooker remains chief underwriting officer for the company's property/casualty businesses and continues to report to Doug Elliot, president of The Hartford.
The Hartford's Middle Market segment provides multiline commercial insurance coverage for midsize and larger businesses, associations and organizations. Its core offerings include property, general liability, workers' compensation, auto, umbrella liability and marine protection, as well as specialty coverages for target industry segments, including technology, life sciences, construction, energy and multinational.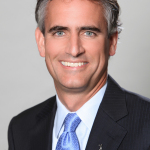 Tooker joined The Hartford in 2015, when he was named executive vice president and chief underwriting officer for the company's property/casualty insurance businesses. He has overseen underwriting across the insurer's Small Commercial, Middle Market, Large Commercial and Personal Lines segments.
Prior to joining The Hartford in 2015, Tooker served as president of General Reinsurance Corp. and was responsible for the company's global property/casualty reinsurance business.