California Weighs Buying Disaster Insurance Policy to Cover Wildfire Costs
California's insurance commissioner and a lawmaker want to the state to consider buying insurance in the private market to cover rapidly increasing costs of fighting wildfires due to climate change.
State Sen. Bill Dodd, D-Napa and California Insurance Commissioner Ricardo Lara on Thursday proposed the California Disaster Insurance bill, or Senate Bill 290. Also behind the bill is state Treasurer Fiona Ma.
SB 290 would authorize the governor, the insurance commissioner and the treasurer to look into entering into an insurance policy that pays out when California has unexpected costs for disaster response.
The newly elected Lara said the law if passes it would enable the state to officially engage with the insurance industry and figure out how to pay the state's pay skyrocketing firefighting costs – solutions could be found through insurance, reinsurance, issuing a bond or creating a parametric product, according to Lara.
"It works like home insurance, but for the state," Lara told Insurance Journal on Wednesday during a conversation ahead of a press conference today to introduce the bill.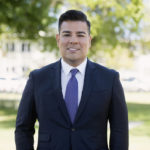 He said the bill enables discussions with the industry to move forward, and the bill leaves room for numerous solutions.
"We're leaving it open to allow us to have those discussions," Lara added.
The state currently pays firefighting costs by holding funds in reserve, with the budget staff each year estimating how much to set aside.
"Seven of last 10 years our costs have overrun our budget projections," Lara said.
According to Cal Fire, in 2017 and 2018, the state spent $947 million through the emergency fund for firefighting, which was nearly $450 million more than budgeted.
Since 2007, California has experienced 11 of the top 20 most destructive fires in its history. It has been argued that extreme heat and drought driven by climate change has made the state's wildfire seasons longer and more destructive.
Lara said the effects of climate change on the state's wildfire season are a "stark reality," and that California's leaders and the insurance industry must begin looking for creative solutions.
"Unfortunately, this is going to be an ongoing challenge for us in California as we continue to try and tackle climate change," he said.
California wouldn't be the first state to take out insurance against wildfires.
Oregon has long purchased insurance against wildfire costs. Figures show the state getting a lot of bank for its buck. Oregon spent $61 million on premiums and received $102 million in insurance payments since 1973, according a 2017 University of Idaho report on "State Funding for Wildfire Suppression in the Western U.S." The high claim figures were pushed up by back-to-back years in which the policy limits were reached at $25 million in claims both in 2013 and 2014. The following year the state paid $3.8 million in premiums but no claims were triggered.
Dodd, who hosted a press conference in Sacramento on Thursday with Lara to make the announcement, said climate change has made California a "tender box due to our over-expanded fire season."
He noted that insured losses from California wildfires over the past two years have reached $24 billion, "and it doesn't even include the billions that we've spent on recovery."
Munich Re in January reported California saw its worst-ever wildfire season for the second straight year running with the state's wildfires contributing $24 billion to the overall 2018 natural catastrophe loss burden with $18 billion of the total wildfire price tag covered by insurance.
Both Lara and Dodd emphasized that a change is needed from the state's current method of budgeting for wildfire fighting costs then paying out each year, which they said can lead to cycle of boom and bust that takes a toll on the state budget money.
That money could be used for other things, such as helping communities build more resiliently, as well as better forest management, according to Dodd.
"We've come up a with a plan that brings predictably to our state coffers in a time of disaster," Dodd said.
Armand Feliciano, vice president for the America Property Casualty Insurance Association, in a statement following the conference said the industry looks forward to working with the state.
"Insurance is the economic safety net that has financed the revitalization of homes and communities after devastating wildfires," the statement reads. "Insurance has rebuilt fire-devastated neighborhoods from Oakland and Laguna Beach to San Diego and San Bernardino. Once again insurance is rebuilding California communities in both Northern and Southern California after historic wildfires in 2017 and 2018. Insurers understand the need for new products and strategies to finance the mitigation and recovery from these unprecedented wildfires. We look forward to working with the legislature and statewide elected officials to consider and develop innovative ways to prevent and fight future wildfires."
Lara said he and his staff have already been talking with the industry and he feels there's at least some interest from insurers. He declined to say which insurers he was talking with, but during the conference he said talks about creating an insurance product can be held with international as well as domestic insurers.
"We know based on preliminary discussions there's an interest there," he said. "We've seen that interest so far as part of my meetings with them."
Back-to-back historic wildfire seasons have prompted more proposals to deal with escalating firefighting cost and decreasing homeowners insurance availability in fire-prone areas. One expert recently proposed establishing a California Wildfire Commission.
Dodd was asked during the conference if a newly created California Disaster Insurance program could be used to pay for catastrophes beside wildfire.
"Essentially, yes," he replied, offering flood protection as an example. "We think this is absolutely appropriate in that regard too."
The bill is one step in an overall effort that Lara says he and the California Department of Insurance are undertaking to deal with the reality that wildfires are costing more to suppress and they are making it more difficult for some homeowners to find affordable insurance – a fact that was driven home for him after a recent visit to a town that was nearly wiped off the map by the Camp Fire in November.
"It's clear after visiting Paradise that we're going to have a challenge with the availability and affordability of insurance products," Lara said.
Past columns: