New

You can now listen to Insurance Journal articles!
Dog bites and other dog-related injuries accounted for more than one-third of all homeowners liability claim dollars paid out in 2021, costing $881 million, according to an analysis by the Insurance Information Institute (Triple-I) and State Farm.
The number of dog bite claims nationwide increased to 17,989 from 17,567 in 2020—a 2.2 percent increase. The average cost per claim decreased 1.1 percent from 2020-2021, coming in at $49,025 in 2021 compared with $50,245 in 2020. However, there was a steep increase (39 percent) in cost per claims over the past 10 years, according to the analysis.
That increase was "no doubt due to increased medical costs, as well as the size of settlements, judgments and jury awards given to plaintiffs," said Janet Ruiz, director – Strategic Communication, Triple-I, in a statement. She noted the value of claims also has risen 44 percent over that same period.
Number and Cost of Dog Bite Claims (And Other Dog-Related Injuries*), 2012-2021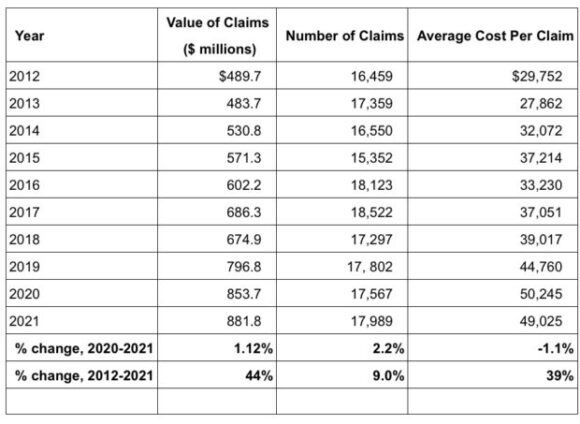 *Claims costs are attributable not only to dog bites but also to dogs knocking down children, cyclists and the elderly, which can result in costly injuries.
California continued to have the largest number of claims in the U.S., at 2,026 in 2021, a slight decrease from 2,121 in 2020. California also had the highest value of claims in 2021, at $120.7 million, and the highest average cost per claim in 2021, at $59,561.
Estimated Number and Cost of Dog Bite Claims (And Other Dog-Related Injuries*), 2021 State Results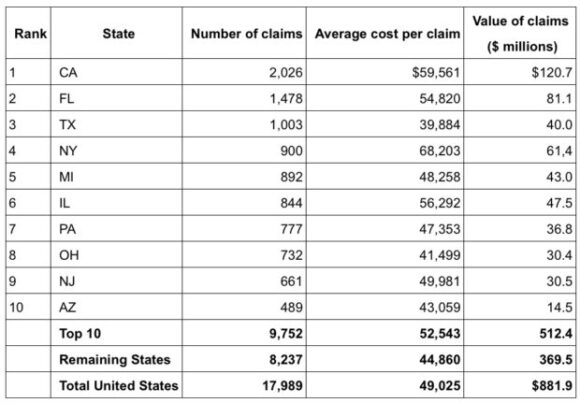 Topics Carriers USA Claims Homeowners
Was this article valuable?
Here are more articles you may enjoy.