People Moves: Hagerty to Head US Retail Property at Everest Insurance; AIG Hires Navagamuwa as Chief Information Officer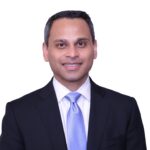 Roshan Navagamuwa joins American International Group, Inc. (AIG) in December as executive vice president and chief information officer, effective January 1, 2024. AIG is headquartered in New York, N.Y.
Navagamuwa joins AIG from CVS Health, where he was executive vice president and chief information officer. Previously at CVS Health, he was senior vice president, client services, pharmacy benefits management. Earlier in his career, he held successive leadership roles in Aon's global IT division.
Hagerty Promoted to Head Everest Insurance U.S. Retail Property
Everest Insurance appointed Patrick Hagerty senior vice president and head of U.S. retail property. He is based in New York and reports to Mike Mulray, president, Everest Insurance North America.
Hagerty will be responsible for all aspects of Everest's retail, middle market and builder's risk businesses. He joined the company's corporate underwriting team in 2021 and was most recently Everest Insurance's chief underwriting officer for U.S. property. Prior to that, Hagerty spent nearly two decades with AIG.