Families Remember Deadly North Texas Tornado
Kenneth and Natasha Briggs and their four children had avoided the area near the Bush Turnpike and Interstate 30 in spite of, and because of, what it had done to form their family.
This week, however, Natasha sat front and center under a tent at John Paul Jones Park while holding her girls, ages 12 and 7.
Technically, they're her nieces. But a year ago, about a quarter-mile away, they became the Briggs' children. Nine motorists were killed after a tornado ripped through Garland on Dec. 26, 2015, including the girls' mother and brother.
The cities of Garland and Rowlett this week remembered the victims at dual ceremonies.
"We haven't been back since everything happened," Natasha told The Dallas Morning News. "But the reason to be here today was because of the outpouring and support we received from the community. We really appreciate every single deed and action."
The McKinney family, including the couple's two younger children, says it felt the prayers for victims Kimberly Tippett, 30, and her 1-year-old, Kamryn Crain, and want those prayers to continue.
"Kim is very prevalent in our lives," Kenneth Briggs said of his sister-in-law. "We don't put Kim and Kam in a box and tuck them away."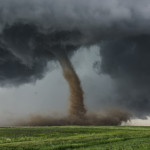 About 50 members of the victims' families took part in the Garland ceremony. Many held white carnations and most wore ribbons in honor of their loved ones. Few had ever met other victims' families before, but their tears and hugs cut through to a shared pain.
In all, 13 people died in 12 tornadoes in North Texas on Dec. 26, 2015.
Monday's ceremonies also honored the first responders and government officials who worked to speed aid and rebuilding of the communities.
Amid the sheared trees at John Paul Jones Park were several newly planted ones near a plaque that was unveiled in honor of "the spirit of Garland."
At the yet-to-be-developed Schrade Bluebonnet Park in Rowlett, the centerpiece will be a sculpture of a phoenix rising from a tornado. A replica was unveiled at Monday afternoon's presentation there.
The artist, Rowlett resident Troy Connatser, said the four pieces of the 50-foot work will be assembled onsite in three to six months.
"I don't want people to remember Rowlett as a place where the deadly tornado hit," Mayor Todd Gottel said. "I want Rowlett to be remembered as a place that had a revival and pulled together united to help people in need."
At the Garland event, Mayor Douglas Athas said: "Video and pictures do not tell a story of what a tornado does to a community."
He recalled the immediate hours after 6:50 p.m., when the tornado struck the southernmost part of the city. Other communities sent fire and police aid, and a steady stream of volunteers continues to meet needs.
"The giving constantly to GarlandStrong and the other things to help our community, that'll be the lasting memory," Athas said.
Garland City Council member Stephen Stanley, who represents the tornado-hit area, said there is a long way to go toward rebuilding people's lives and the neighborhoods. City Manager Bryan Bradford marked the anniversary not as the culmination of effort, but as a time to recommit.
"This is, perhaps, an unparalleled reminder of why we choose to spend our careers in public service," said Bradford, who had taken over leadership in the city just seven months before the EF-4 tornado, the strongest on record to hit North Texas in December. "I assure you, the effort will not end, but a recommitment to restoring lives, homes and neighborhoods."
Rowlett leaders talked about the 3.5-mile scar, half a mile wide, in their community. They, too, found light among the grief, in that although thousands of homes were damaged, many devastated, nobody in those homes died that night.
City Manager Brian Funderburk spoke of taking shelter with his family, including grandkids and an 80-pound golden retriever, then heading to Rowlett's emergency management center and, at daylight, seeing the devastation.
"Acts of heroism were performed by our friends, our neighbors and our emergency response teams," he recalled. "We were so shocked and horrified by what we were seeing.
"We owe a huge debt of gratitude to more people and organizations than we can count."
Related:
Copyright 2019 Associated Press. All rights reserved. This material may not be published, broadcast, rewritten or redistributed.